How to Fix iPhone 14 Cellular Data Problems? We offer some crucial troubleshooting suggestions for resolving iPhone 14 Pro cellular connectivity issues. Or having problems using Mobile data on iPhone with sluggish internet speed or iPhone 14 Pro not connecting to cellular data is the most commonly impacted device. The majority of people are aware of the concerns and remedies through internet forums or help pages. But if no one can help you, read the following tips first, then skip the points that you have done to solve Apple iPhone 14 Pro mobile data that is not working.
Cellular data issues on the iPhone 14 Pro might be caused by a simple software bug, faulty hardware, or even a system-wide outage that renders the entire mobile network unusable. In other words, when cellular data stops working on the iPhone 14 Pro, it is catastrophic. Here are some tried-and-true fixes for iPhone 14 Pro cellular data issues.
How to Fix iPhone 14 Cellular Data Problems?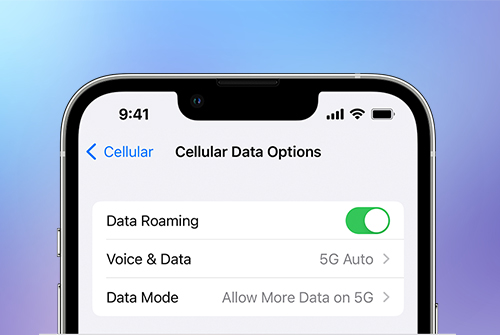 Here is the method to Fix iPhone 14 Cellular Data Problems:
Method #1. Update Network Settings
Typically, previous iPhone network settings can cause problems such as iPhone 14 cellular data troubles. If you are travelling outside of your nation and switch to another carrier, you may have incompatible carrier settings when you return to the local network.
On the iPhone, open the Settings app.
Next, select General.
Scroll down the screen and select Carrier.
A popup will display on your Phone screen if you have any network settings available to you.
To begin the procedure, click Update. and make an attempt to connect your iPhone 14 to mobile data. I'm hoping this will resolve the issue.
Method #2. Check If You've Reached Your Cellular Data Limit
Most providers provide mobile data services and data-limited plans. And, let's be honest, many of us would have taken roaming for granted if we hadn't kept track of our data usage. As a result, if your cellular data isn't working on your iPhone 14 Pro, this could be one of the causes. The only time you don't have to think about this is if you have an unlimited data plan.
Unfortunately, it is difficult to determine whether you have over your iPhone's data limits. You can see your Mobile Data Usage by going to Settings > Cellular and scrolling down, but if you've never reset this figure, it may be unhelpfully large. Our advise is to make a habit of resetting it once a month. It's recommended to check with your carrier to see if you've reached your data limit.
Method #3. Reboot Your iPhone to Fix iPhone 14 Cellular Data Problems
How can I repair my iPhone 14 Pro LTE? or is your phone unable to connect to LTE? To resolve your iPhone 14 Pro cellular data difficulties, please follow the hard reset methods outlined below.
Now, quickly press and release the volume up button, followed by the volume down button.
Now, simply press and hold the side button on your iPhone 14 Pro until the screen goes entirely black.
After that, your iPhone will automatically boot up to the Apple logo screen. If your iPhone 14 Pro won't turn on, use the side button to turn it on.
Method #4. Toggle Airplane Mode
When your iPhone 14 Pro's cellular data isn't working, sometimes all you have to do is toggle Airplane mode on and off. This will disconnect your phone from the mobile network and may also solve the problem.
Go to Settings, turn on Airplane Mode, wait 30 seconds, then turn it off, wait for your networks to reconnect, and then double-check that your cellular data is working.
Method #5. Check the Latest Update to Fix iPhone 14 Cellular Data Problems
This solution will assist you in resolving the issue of Apple iPhone 14 Pro mobile data that is not working. Apple frequently issues a minor update for the affected device. If this is a genuine iOS bug, it will be resolved after your iPhone receives an iOS update.
Follow my instructions; however, your device must be linked to a Wi-Fi network [since the tech brand Apple does not allow software updates on Apple iOS/ipadOS devices using mobile data].
On the iPhone, open the Settings app.
Select General.
Select Software Update. [The most recent firmware available is iOS 13.6 and iOS 14 beta or later]
Check for updates, then download and install them.
Method #6. Re-Insert Your SIM Card
Re-inserting your SIM card is another option to resolve the iPhone 14 Pro cellular data issue. The SIM card serves as a go-between for your iPhone 14 Pro and your cellular provider, providing your device with a unique phone number and allowing you to connect to your carrier's cellular network.
Unless you clean it on a regular basis, your iPhone will get dirty. Everything from food crumbs to coffee spills might become stuck in your smartphone over time. This accumulation is especially dangerous if it becomes trapped in your SIM card tray. When this happens, your iPhone 14 Pro will not receive signals effectively, resulting in Cellular Data issues.
Fortunately, there is a way to clean your SIM card and check for physical damage. To delete your SIM card, follow these steps:
Scan the borders of your iPhone 14 Pro for the SIM card tray, which is shaped like a tiny oval with a small hole on the inside.
Insert a small paperclip or SIM-eject tool (often included in the box that comes with your iPhone) into the hole until the tray ejects.
Take out your SIM card. Clean your SIM card with a dry microfiber cloth before reinserting it in the tray, ensuring sure to align the notch on the card with the notch on the tray (your SIM card will only go into the tray one way).
Replace the tray in the oval slot.
Method #7. Contact Carrier Company
Your carrier terminates your cellphone connection. There are numerous explanations, such as Your Bill is Past Due, Outdated, Exceeded, and You Need to Renew Your Cellular Data Plan.
Ask the corporation on a toll-free phone what the reasons are.
Your mobile signal will be weak during the travel. So
The mostly weak signal on travel time Drop or slow down your internet connection. Wait for a single boost and be patient.
Method #8. Update Your Carrier Settings
If your carrier's network has just been changed, installing this update will allow your iPhone to sync with new technology such as 5G. It will also aid in the elimination of problems that may be causing your iPhone 14 Pro Cellular Data to stop working. To update your carrier settings, click to Settings > General > About. If an update is available, you will be prompted to install it.
Go to Settings > General > About and look next to "Carrier" to see what version of the carrier settings your phone is running.
Method #9. Check Date and Time Settings
Check that your iPhone's date and time are set correctly for your time zone. To do so, navigate to Settings > General > Date & Time. If the date and time are incorrect, either change them or enable the option to automatically set the date and time.
Method #10. Reset Your APN to Fix iPhone 14 Cellular Data Problems
Access Point Names, or APNs, are used by phone providers to communicate with your mobile devices. These include critical information like your IP address and the gateway settings required to connect to the internet. Even though they are critical, they are certain to pose some problems at some point. When this happens, you can try resetting your APN to see if it resolves your cellular data problems.
Go to Settings > Cellular > Cellular data network > Reset Settings to reset your APN.
Method #11. Restore iPhone to Factory Settings
Then, using iTunes, erase all data and settings. Connect your iPhone to your Mac or PC using iTunes.
If the problem is too old and nothing works, try installing the New Update iOS on the iPhone. The restore procedure is the best way to resolve major issues such as network problems, freezing, software glitches, heating up, and more. Let's get started. Users of macOS Catalina or later can use Finder to backup and restore iOS/iPadOS. Previously, Mac and Windows users could use iTunes to update and restore their iPhones/iPad.
Launch Finder/iTunes on your Mac/PC. Connect your iPhone/iPad with a Lightning cable and enter a passcode to unlock. Your device will be shown in Finder/iTunes.
Select Device > Device Summary.
Find the "iPhone Restore" button in the Device Summary. Simply click on it. First and foremost, iTunes Erase the device, then download and install the most recent firmware.
Wait until you see the new iPhone setup screen.
Also Read: How to Fix iPhone 13 Pro Max Cellular Data Problems