How to set up Voicemail on iPhone 14 AT&T? In this article, I provide troubleshooting techniques for At&t network subscribers. Learn how to repair At&t visual voicemail on iPhone 14. New clients or some of the exits Customers with AT&T have reported issues with being unable to set up or Visual Voicemail not operating properly on iPhone after proper setup.
We understand how important Visual Voicemail is to you. Because you can readily browse a list of Voicemail messages, and this allows you to listen to a voicemail before deleting it. You may also modify your voicemail greetings and password, receive crucial voice messages quickly, and store up to 40 messages, each up to 4 minutes long, for up to 30 days.
We are only attempting to advise the best solution but cannot confirm it because this is a network issue. First and foremost, you must ensure that the At&t Voicemail Setup on your iPhone is proper. Following that, there are some solutions to At&t visual voicemail not working on Apple iPhone.
What is Voicemail?
Visual Voicemail (available from select carriers) displays a list of your messages in the Phone app. You may choose which ones to play and which to remove without having to listen to them all. The number of unheard messages is indicated by a badge on the Voicemail icon.
How to set up Voicemail on iPhone 14 AT&T?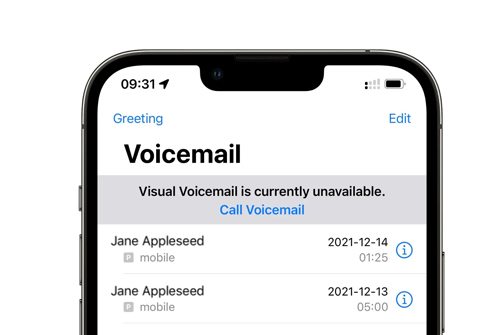 Here is the method to set up Voicemail on iPhone 14 AT&T:
Select the Phone app from the home screen to configure your visible voicemail.
Choose Voicemail.
Choose Set Up Now.
Enter a voicemail password of 7 to 15 digits, then click Done.
Enter your voicemail password again, then click Done.
To utilise the default greeting, select Default. To record your own greeting, select Custom. When you're finished, click Done.
Also Read: How to Fix iPhone 14 5G Not Working?