How to Fix iPhone 14 Overheating Problems? Apple unveiled its latest iPhone lineup earlier this month, and many people are eager to get their hands on the iPhone 14 and iPhone 14 Pro models. While the new iPhones have a slew of new capabilities, many customers have reported various concerns with their smartphones, with a sizable proportion reporting that their new iPhones are becoming hotter more frequently.
When used or plugged into a charger, iPhones, like any other electronic device, can become heated. This can also happen when you use a graphics-intensive app or game, set up your iPhone for the first time, or restore it from a backup. According to Apple, these are normal conditions, and your iPhone should return to its usual temperature as soon as it finishes an activity.
How to Fix iPhone 14 Overheating Problems?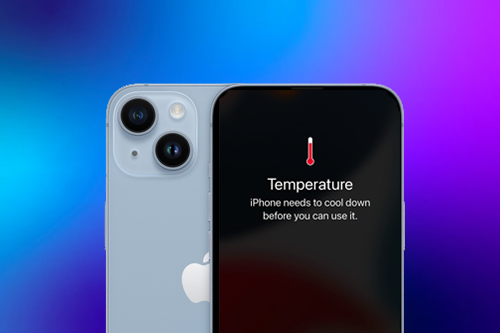 Here is the method to Fix iPhone 14 Overheating Problems:
Many iPhone 14 Pro customers, however, have expressed their concerns about overheating difficulties on the new smartphones. Many of these consumers have reported that their iPhones were hot when performing routine operations such as texting, listening to music, taking pictures, browsing the internet, or using Apple Maps.
After the first device setup, which involves restoring and indexing data from your backup, some users' iPhone 14 Pro returned to normal temperatures. If you've only had your iPhone for less than two days, overheating may stop once the restoring procedure is completed.
Method #1. Stop Resource-Hungry Apps
If there are a lot of memory-hogging apps running in the background, it will not only have a negative influence on the overall battery level but may also contribute to CPU overload on the device. As a result, it is advised that you go through all of those apps and delete those that are no longer relevant. Here's how you could go about it:
To begin, navigate to Settings > Battery. Scroll down to the Battery Usage by App section.
It will display a list of all active apps as well as the percentage of battery they consume.
If an app is taking an excessive amount of battery but does not have a higher priority level, try uninstalling it.
Do this for all such apps and then see if it resolves the overheating problem on the iPhone 14/Plus/Pro/Max.
Method #2. Switch from Beta to Stable to Fix iPhone 14 Overheating Problems
If you're using a beta version of iOS, it's natural to encounter a few glitches and difficulties. This inefficiency in the OS could wind up hurting several components of your device, including the battery. As a result, you should consider downgrading to a stable OS and then testing the outcomes. To do so, follow these instructions: Uninstall/Remove iOS 16 Beta: Downgrade to iOS 16 Stable [this applies to all iOS 16 versions].
Method #3. Turn off Always On Display to Fix iPhone 14 Overheating Problems
The iPhone 14 Pro's most notable new feature is Always On Display. When enabled, it displays the date, time, and lock screen widgets on the black screen even after you have locked your device using the Side button. As handy as it may be, some customers have complained that the Always On Displays cause their iPhones to overheat. Some users have reported that after turning off Always On Display on their device, the phone began to cool down.
To turn off Always On Display, go to Settings > Display & Brightness and toggle the Always On toggle from green to grey. This should keep your iPhone from overheating and keep its battery from draining too quickly.
Method #4. Use a Non-Fast Charger
While we're on the subject of charging, charging slowly can help keep your iPhone from overheating. Although fast chargers are a convenient method to charge your phone quickly, they emit more heat than older standard adapters. You can charge your iPhone instead with an older 5-watt charging adaptor, which will power your handset slowly without hurting it or causing overheating concerns. Furthermore, you should avoid utilising wireless chargers because they tend to heat up your iPhone more than charging it via the Lightning connection.
Method #5. Restore All Your Data From iCloud
If you upgraded from an earlier iPhone to the iPhone 14 Pro, you're most certainly transferring all of your existing iCloud data. This process typically takes several days because a large amount of data is retrieved and processed in the background. In addition, your iPhone will begin indexing data such as app suggestions and face identification within the Photos app, which may take a few days to stabilise. If your iPhone is still less than a week old, you must wait until it has finished restoring content from iCloud. If the problem remains, you can proceed to the next steps.
Method #6. Remove Lock Screen Widgets
Lock screen widgets are one of the most recent additions to iOS 16. Lock screen widgets, as useful as they may be for you, demand additional resources to run in the background and gather essential info. This is because, in order to show you updated information, some widgets may need to check for fresh data from their relevant apps, consuming power as if the app were actively running.
Furthermore, on the iPhone 14 Pro, lock screen widgets will appear alongside the date and time on the Always On Display. Because the lock screen widgets appear at all times, even when the iPhone is locked, this may result in additional resources being consumed on your iPhone. Some customers discovered that deleting lock screen widgets from their iPhones helped to reduce the temperature.
Long-press anywhere on your iPhone's unlocked lock screen and then hit Customize at the bottom to remove lock screen widgets. When in edit mode, tap the widget box below the clock and remove the widget you want by tapping the minus (-) icon in the top left corner of a widget. Repeat this process to remove other widgets from your lock screen.
Method #7. Shut Down Our iPhone
If your iPhone 14 Pro is still becoming hot after you've tried the aforementioned cures, it could be because of a rogue programme or a malfunction that's using up more resources than it should. In such circumstances, turning off your iPhone for a few minutes should help cool it down and return it to normal operating temperatures. This should also delete any background activities that may have been causing your iPhone to overheat.
Press and hold the Side and Volume buttons together until the power-off slider appears. When this slider displays, drag it to the right to shut down your iPhone.
Go to Settings > General > Shut Down. When the power-off slider appears, drag it to the right and wait for your iPhone to turn off fully.
Method #8. Update Your iPhone 14 Pro to the Most Current iOS Version
Apple has published a few small updates to iOS 16 since the launching of its new iPhone 14 series to address faults and bugs. Because this is a widespread problem, another update may be on the way. To ensure that the overheating isn't caused by a software malfunction, keep your iPhone updated to the most recent iOS version at all times.
To check for new updates on your iPhone, navigate to Settings > General > Software Update. If an update is available, tap Download and Install to bring your iPhone up to date.
Method #9. Enable Low Power Mode to Fix iPhone 14 Overheating Problems
Apple has built-in safeguards within iOS to keep your iPhone from overheating. However, the inner temperature of the gadget is also affected by the environment in which it is used. If it's a hot day and you're actively using your iPhone in direct sunlight, it will heat up and start to degrade in performance and behaviour.
Furthermore, Apple advises against using an iPhone for GPS tracking, navigation, and gaming in hot weather, as well as leaving your device unattended in a car on a hot day. If you continue to use your device under such conditions, you may eventually receive the "Temperature: iPhone needs to cool down" alert on your iPhone, rendering it inoperable until it cools down.
Method #10. Unplug the iPhone From Charger
In addition to not using your iPhone while it's connected in, you should avoid leaving it plugged in for an extended period of time. This is because a fully charged iPhone stresses the battery in order to optimise how it discharges. In some cases, this may result in overheating, which is why you should avoid charging your iPhone to 100% or leaving it plugged in. This will not only prevent overheating but will also extend the battery's life in the long term.
Method #11. Return or replace your iPhone
If none of the above-mentioned methods helped to resolve the overheating issues on your iPhone 14 Pro, there is one more thing you may try. Because the iPhone 14 Pro was only recently released, you may only have had it for a few days. Apple permits new iPhone users to return their gadget if it is faulty, as long as they do so within 14 days of acquiring the item.
You will have the option of receiving a refund or replacing your gadget with a brand-new one once you submit your request or take it to an Apple Store. You may learn more about returning or replacing your new iPhone 14 Pro by visiting our Returns & Refunds page.
Method #12. Reset your iPhone to factory settings
We understand that once you've gone through the process of setting up your brand-new iPhone, resetting can be an unpleasant experience. However, if none of the above repairs reduced the working temperature of your iPhone, this is the final thing you can do before returning it to Apple. Fortunately, some users who had overheating concerns with the iPhone 14 Pro have proven that erasing the data completely and resetting the smartphone fixes the problem to a substantial amount.
If you want to restore your iPhone to factory settings, go to Settings > General > Transfer or Reset iPhone > Erase All Content and Settings and then follow the on-screen steps to wipe your iPhone's data and reset it to factory settings.
Method #13. Do not use your iPhone when it's plugged in
Charging any electrical item generates heat, and iPhones are no exception. To avoid harming your battery, the heat generated during the charging process must be dissipated properly. When you use your iPhone while it's plugged in, it may heat up to a higher temperature than usual because, in addition to charging, its resources are being used.
It is consequently advised that you leave your phone hooked into the charging station unused. To dissipate heat faster, remove the iPhone from its protective case; your phone should cool down considerably faster when it reaches steady charging levels.
Method #14. Disable Location Services to Fix iPhone 14 Overheating Problems
If you enable location services on your iPhone 14 Pro, apps and iOS will be able to track your whereabouts at regular intervals. Your location data is shared at regular intervals for apps like Weather, which may cause your iPhone to heat up because it is continually consuming more resources than it should.
When your iPhone becomes overheated while not in use, you can disable Location Services to prevent apps from accessing your GPS data; this should help cool down your iPhone in a matter of minutes. To disable Location Services, navigate to Settings > Privacy & Security > Location Services and flick the Location Services switch off.