10 Best Free Personal Assistant Apps For Android. There is no denying the usefulness and longevity of personal assistant programs like Google Assistant, Siri, etc. However, there are several personal assistant options available right now. Personal assistant programs like Siri, Bixby, Google Assistant, and others can increase productivity and help you save time.
What is a personal assistant?
In both professional and personal settings, assistants are those who offer services that alleviate their employer of the burden of duties related to running their personal and/or professional lives. Running errands, planning travel (such as buying airline tickets, booking hotel rooms, and arranging activities, as well as handling more localized services like suggesting a different route to work based on road or travel conditions), finance (paying bills, buying and selling stocks), and shopping are just a few of the life management tasks they help with (meal planning, remembering special occasions like birthdays).
Best Free Personal Assistant Apps For Android
These personal assistants have the ability to conduct web searches, download apps from relevant app stores, and carry out simple operations like placing calls and sending texts, among other things. The market for personal assistant apps is gradually growing congested, therefore now is the ideal time to provide a list of the top personal assistant apps.
List of 10 Best Free Personal Assistant Apps For Android in 2022
We won't rank the worst personal assistant applications because there are so many other options. The top personal assistant apps that we have personally tested have been gathered. Let's investigate the top free personal assistant apps for Android now.
1. Google Assistant – Best Free Personal Assistant Apps For Android
The best personal assistant will always be Google Assistant. Of course, if you have a modern Android smartphone, you don't need the app.
However, owners of outdated smartphones must rely on the Google Assistant app. You may ask Google Assistant to do a variety of things, like make calls, send texts, tell jokes, set alarms, and more.
2. Robin – Best Free Personal Assistant Apps For Android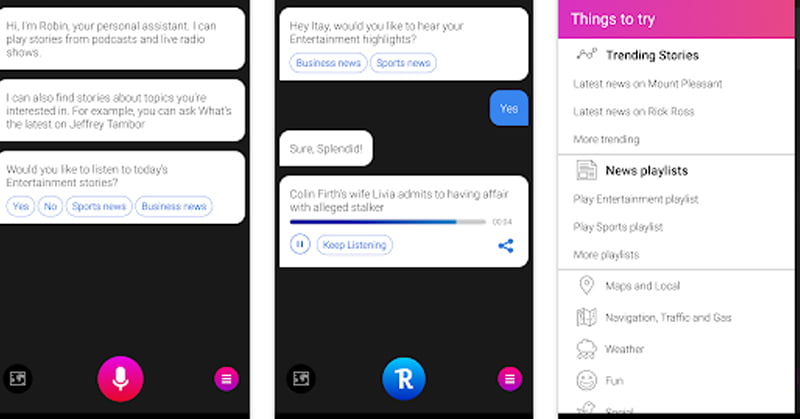 Give Robin a try if you're looking for Android voice assistant software that uses GPS. It's a voice assistant app for Android that is incredibly powerful.
What's this? You can use Robin to find GPS locations when driving, strolling, etc. thanks to its GPS support. Robin is also capable of a wide range of tasks, like calling, setting alarms, playing films, etc.
3. Amazon Alexa
This one functions more as a control for gadgets like the Amazon Echo or Fire. For instance, you can get more use out of your Echo devices using Amazon Alexa's personalized feature recommendations. You can use it to perform web searches, listen to music, etc.
4. Vision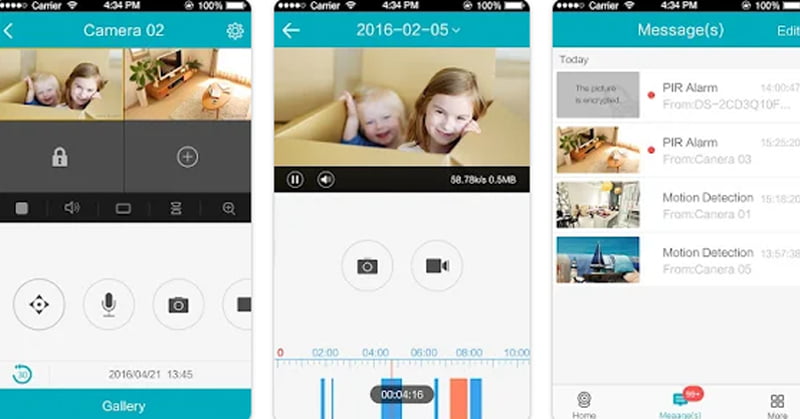 Although it may not be a very well-known software, Vision is still one of the greatest voice assistant apps available for Android. Vision is a personal assistant program that may assist you with a variety of tasks.
Your smart lights, Spotify, online browsers, and more can all be controlled by it. You can also ask for any information by speaking to the voice assistant. Vision is an excellent personal assistant app all around that you shouldn't pass up.
5. Hound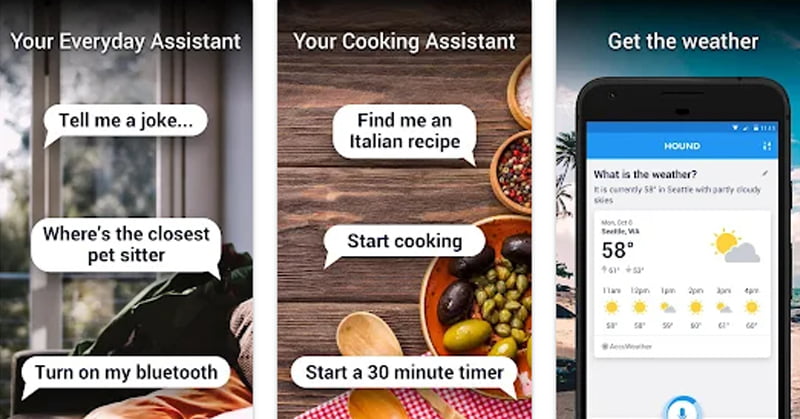 You can use Hound to search for and play music. In addition, you can say, "Ok, Hound…" To receive prompt responses, ask questions like this: "When was Tim Cook born? In addition, Hound may access the most recent news, set alarms and timers, and more.
6. Bestee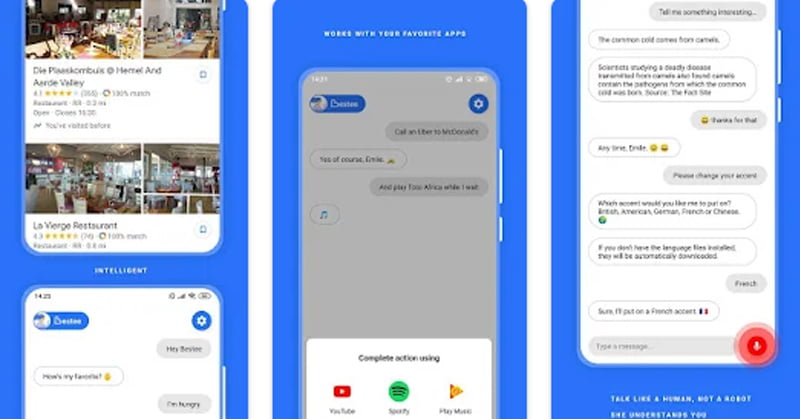 Compared to the other personal assistant applications we've listed, Bestee is pretty unique. It is a personal assistant app that can respond to you like a friend and operates offline.
Bestee will respond when you text or chat to her as though she were a human. Bestee can perform a variety of functions, like setting a task, making a note, sending WhatsApp messages, and more, despite being an offline personal assistant software.
Each personal assistant app is offered for free download on the Google Play Store. These are the top ten Android assistant apps available right now, then. Please leave the name of any additional assistant apps you are aware of in the comment section below.
7. DataBot Assistant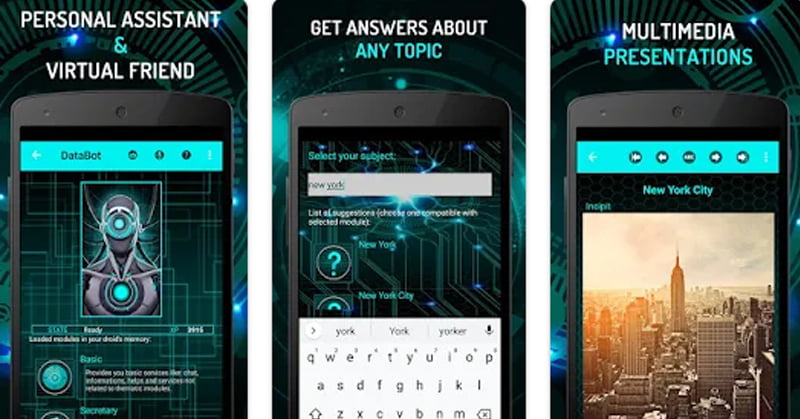 For your Android smartphone, download the feature-rich personal helper app called Virtual Assistant DataBot. The virtual assistant can play music, propose quotes, read the news, keep tabs on your health, tell jokes, and more.
You may also ask DataBot, the virtual personal assistant, questions, and DataBot will look up the correct answer on Google, Wikipedia, and the internet.
8. Extreme – Personal Voice Assistant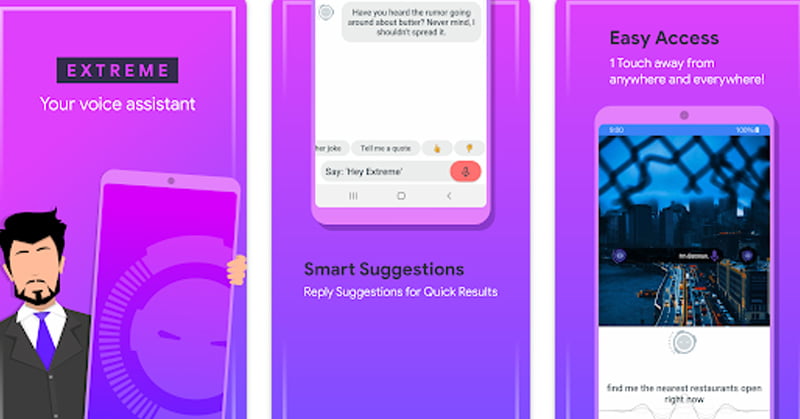 Extreme- Personal Voice Assistant is one of the capable personal assistant programs you can use on Android, while not being as good as Google Assistant or Amazon Alexa.
The voice assistant app for Android-powered by AI can execute a variety of tasks for you, including Google searches, selfies, directions, finding trending news, and more.
The sole drawback of Extreme- Personal Voice Assistant is that certain orders demand manual input. Overall, the personal assistant app Extreme- Personal Voice Assistant is a solid choice.
9. Samsung Bixby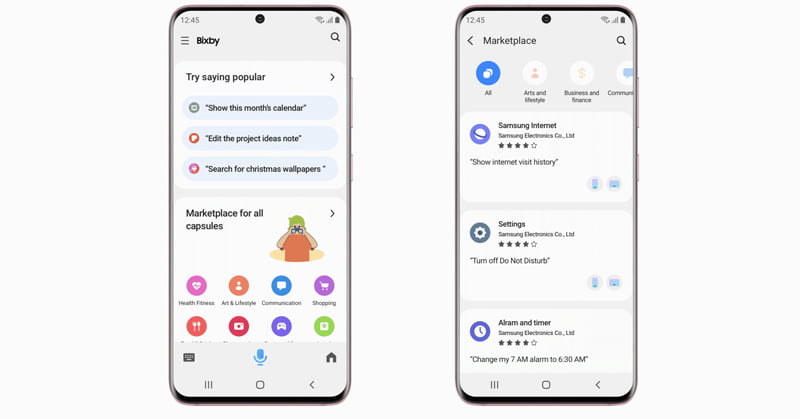 With the help of the personal assistant app Bixby, you can utilize all the features of your Samsung smartphone. Samsung Bixby, like Google Assistant, is capable of a variety of tasks, like making calls, downloading apps, taking pictures, opening websites, etc.
10. Friday: Smart Personal Assistant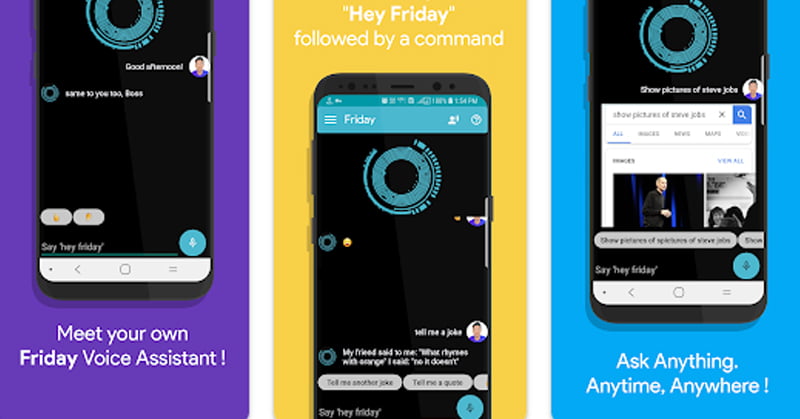 Although the app is not widely used, it offers practically all of the features consumers look for in a personal assistant app. You may call, plan, take pictures, play music, read the news, and more with Friday: Smart Personal Assistant.
You can post something to your social network profiles using even the personal assistant app. Overall, it's a decent Android personal assistant app.
Also Read: Top 10 Free Alarm Clock Apps for Android