How to Block Websites on Your Android Phone or Tablet? If you buy a smartphone or tablet for your children, having parental controls and the ability to block websites on Android is essential. You can use website blocking to break your social media addiction or to prevent distracting content while working. Whatever the cause, we are here to assist you. Here are some of the most efficient Android website-blocking strategies.
The average adult in the United States spends about three hours every day on their phone. The majority of that time is spent online, where it is becoming increasingly difficult to filter out improper or dangerous content. Blocking suspicious URLs on your Android device, on the other hand, can help.
How to Block Websites on Your Android Phone or Tablet?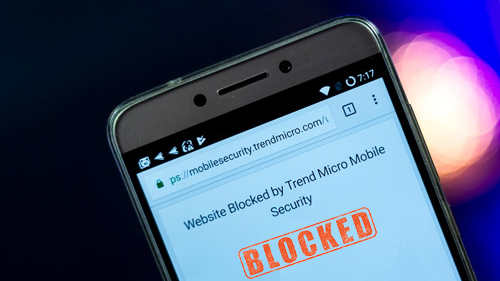 Jere is the method to Block Websites on Your Android Phone or Tablet:
Method #1. Use a Security App
While you're blocking undesired websites, add an extra layer of security by installing a security tool that protects against viruses, ransomware, and other bad content.
Trend Micro's Mobile Security and Antivirus, for example, protects against dangerous content and filters undesirable websites through parental settings. Other characteristics include:
Detecting malware in apps before installing them on your Android device.
If an app has the potential to reveal your personal information, be cautious.
Taking a screenshot of unwanted device access attempts.
Assisting you in locating your phone.
Assisting with the recovery from a ransomware assault.
You should wipe your smartphone.
Mobile Security is free to download and use, as are its anti-virus and anti-malware functions. After a free trial period, the SafeSurfing and Parental Controls features demand a $20 yearly subscription. To use the app, you must first register with Trend Micro.
To use the Mobile Security app to restrict a website, follow these steps:
Launch Mobile Security. Scroll down to Parental Controls on the main page.
Enter your Trend Micro account password.
Select Website Filter.
Turn on the Website filter by tapping the toggle switch next to it.
Allow Now and follow the on-screen steps to allow Mobile Security the necessary permissions.
Select an age range for the parental restrictions. This is an arbitrary choice; you can change the settings afterwards.
Select Blocked List.
Select Add.
Enter a descriptive name and URL for the undesired website, then click Save to add it to the Blocked List.
Method #2. Use a Firewall to Block Websites on Your Android Phone or Tablet
Firewalls use rules to monitor device access and prevent data. Consider a firewall to be a barrier between you and the internet. Choose a no-root firewall if you do not want to root your Android device.
Grey Shirts' NoRoot Firewall can block websites based on whether you're using Wi-Fi or mobile data. When an app attempts to connect to the internet, you'll be notified. NoRoot Firewall is a free download with no adverts and no in-app purchases.
To use NoRoot Firewall to ban a website, follow these steps:
Open NoRoot Firewall and pick the Global Filters option by swiping left on the grey bar at the top.
Select New Pre-Filter.
Enter the full URL of the site you want to ban, including the http or https prefix.
Tap the down arrow in the Port line, then the asterisk (*).
Tap OK.
To access the Home tab, swipe right on the grey bar at the top.
Press the Start button. The pre-filter you made to block the website has been added to the firewall rules list.
Method #3. Use a Website Blocker
Website blocker apps allow you to set times when apps and websites are not accessible. BlockSite, for example, keeps you distraction-free with the following features:
Adult websites are automatically blocked.
A working mode that allows you to define timed intervals and breaks.
Websites and apps are blocked on a regular basis.
Individual web page restriction.
BlockSite is a free app with no adverts and no in-app purchases. To add a website to BlockSite's prohibited sites list, follow these steps:
Tap the addition sign (+) in the lower-right corner to launch BlockSite.
Tap the green check mark after entering the URL of the website you want to block.
In the upper-right corner, tap the Alarm Clock.
Select the times and days of the week when you wish the website to be unavailable.
To apply the settings, tap the toggle switch next to Schedule, then hit the Back arrow to return to the Block Sites screen.