12 Best VPN Browsers for Android. There's no denying that the online environment we live in is no longer private. Your online activity is now being tracked in some way. For instance, search goliaths like Google and Microsoft keep track of our browser activity to display appropriate adverts. In a similar vein, other businesses have web trackers to monitor our surfing patterns.
What is a VPN?
The term "Virtual Private Network," or VPN, refers to the possibility of creating a secure network connection when utilizing public networks. VPNs mask your online identity and encrypt your internet activity. This makes it more challenging for outside parties to monitor your internet activities and steal data. Real-time encryption is employed.
Also Read: 10 Best VPN Browsers for iPhone
Best VPN Browsers for Android
Security experts advise utilizing private browsers and VPN apps to avoid such traps. Because of the computer's capable hardware, we can utilize both VPN and a Private browser at the same time. However, using both applications at once on an Android device will cause lags, freezes, restarts, and other problems.
You will eventually experience lag issues, even with a competent Android device. Utilizing a browser extension with VPN capabilities is the most effective solution for these problems. As a result, you no longer need to use any outside VPN software. Thankfully, there are various Android browsers with built-in VPN functionality that can be found on the Play Store.
List of 12 Best VPN Browsers for Android 2022
The top VPN browsers for Android are given below. During our tests, all of these services left an impression. For in-depth details about these services, scroll to the next section. Here is the list of 12 Best VPN Browsers for Android:
1. Opera Browser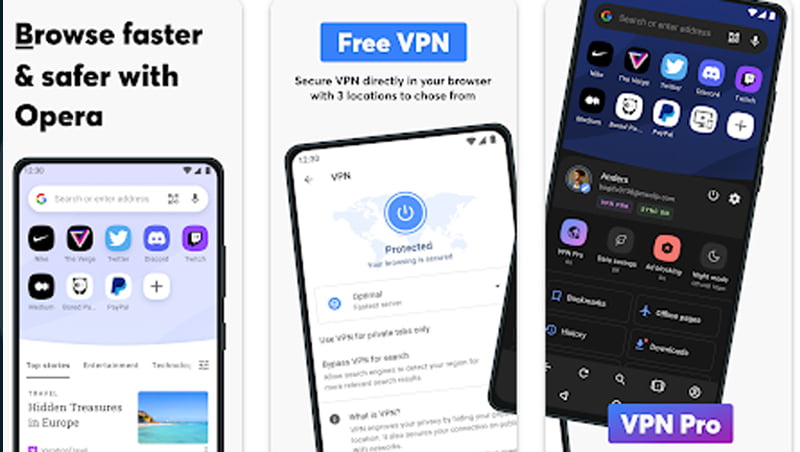 The Opera browser is the only option if you're looking for a quick, secure, and feature-rich web browser app for Android. The Opera browser has more features compared to other Android web browser apps.
Additionally, the software features a built-in VPN that enhances privacy and security while you use it. The browser also has a night mode, private browsing mode, and an ad blocker.
2. Aloha Brower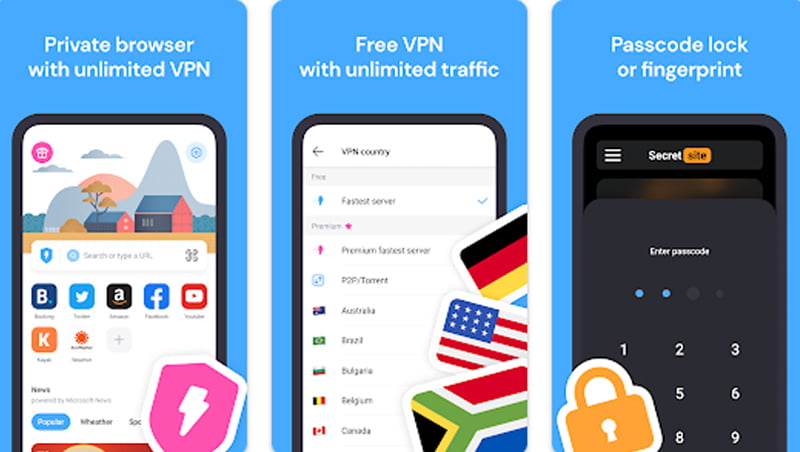 Another great Android web browser with a VPN built in is Aloha Browser. Aloha Browser is fantastic since it enables users to launch a VPN tunnel with one press.
In addition, Aloha Browser provides a built-in ad blocker that removes advertisements from all websites.
3. Psiphon Pro – Best VPN Browsers for Android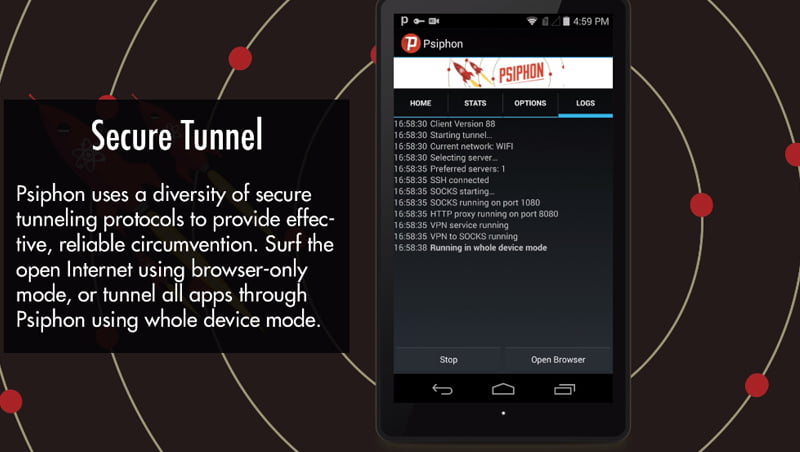 The Psiphon Pro is a VPN program with a browser plugin; it is not a web browser. Psiphon Pro is included on the list because it can encrypt your entire device in addition to the browser.
By building a safe, private tunnel between you and the Internet when using WiFi hotspots, Psiphon Pro also protects you from being tracked.
4. Avast Secure Browser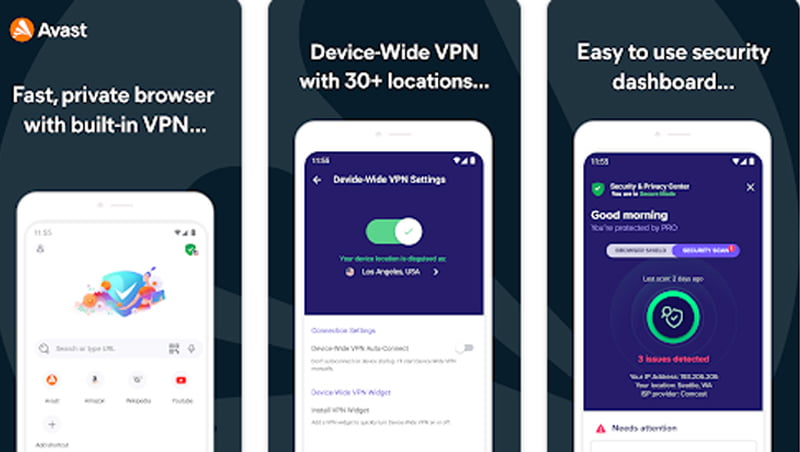 For Android handsets, there is a complete web browser app called Avast Secure Browser. Nearly all browser-related features are available in the Android web browser.
Avast Secure Browser is mostly recognized for its security and privacy features, despite the fact that it offers a variety of functions. To protect your privacy, Avast Secure Browser provides you with a free VPN, anti-tracking tools, complete data encryption, and more.
5. Cake Web Browser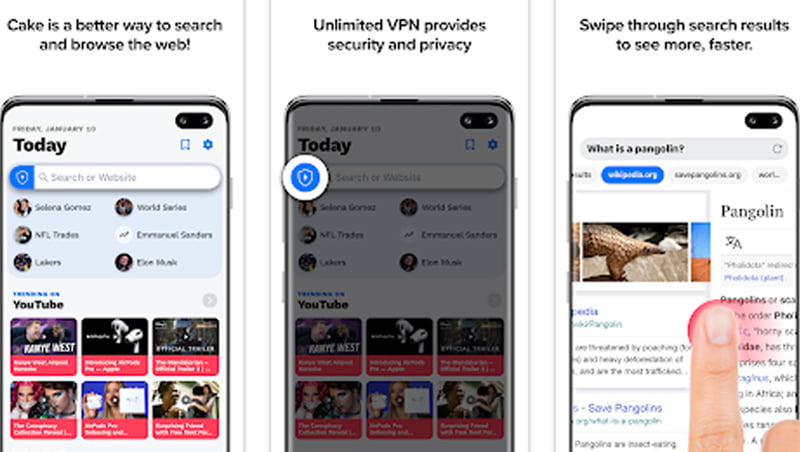 On the Google Play Store, it's one of the top free web browsers for Android. A built-in VPN in the web browser makes it simple to unblock websites. The browser includes many privacy features and was designed with privacy in mind.
Anonymous browsing, a private tab time bomb, passcode protection, Do not track, ad & tracker blocking, etc. are some of the privacy features offered by Cake Web Browser.
6. Tenta Private VPN Browser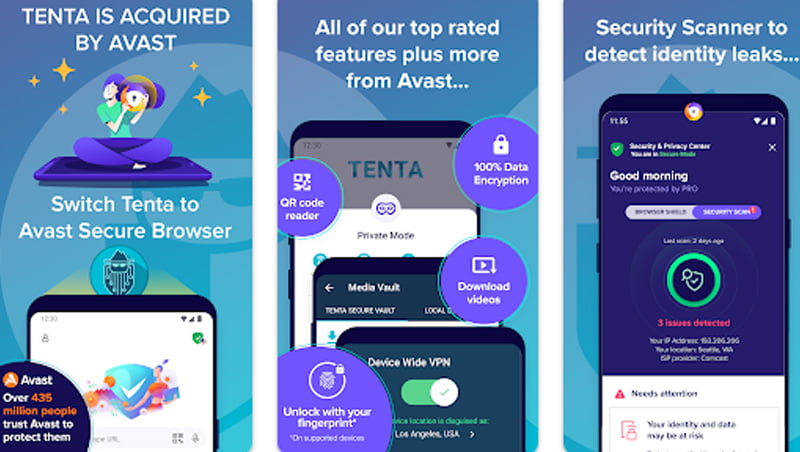 You cannot become invisible on the internet by using the Private mode or private browser apps. The VPN is what renders you invisible. A next-generation browser with unmatched privacy and security is called Tenta Private VPN Browser.
With its built-in VPN, you can access restricted websites and remain anonymous. The Tenta Private VPN Browser also has other functions like an ad blocker and a video downloader.
7. Browsec VPN – Best VPN Browsers for Android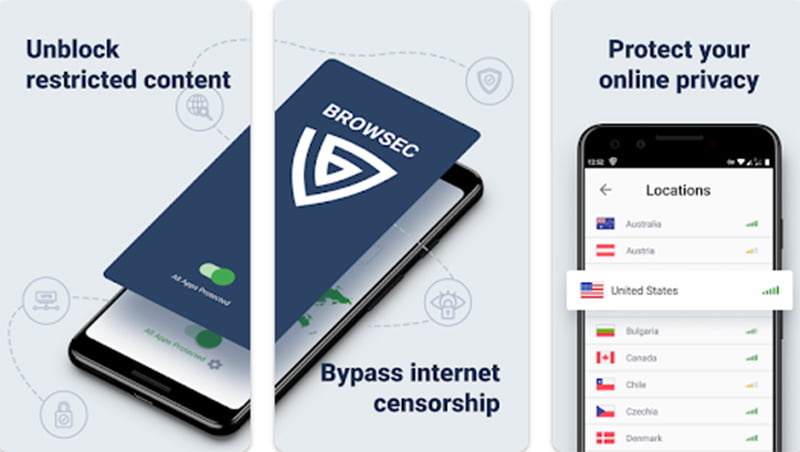 Although Browsec is not a web browser, you can use the access panel to unblock all popular streaming websites. To do that, choose the VPN server and website from the panel, and your Android's default browser will instantly unblock the site.
8. VPN Proxy Browser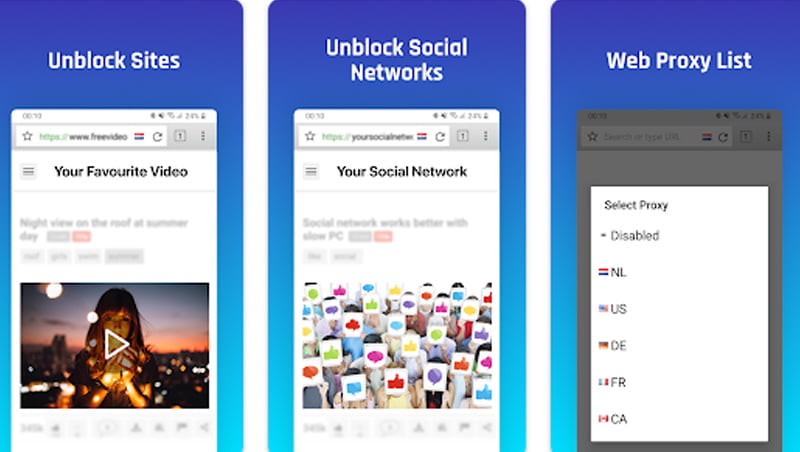 One of the most distinctive web browser applications for Android is VPN Proxy Browser. It is a browser extension that makes you anonymous, automatically unblocks websites, and encrypts your internet traffic.
VPN Proxy Browser isn't overloaded with features as other Android web browser apps are. It just concentrates on decrypting your internet traffic and unblocking websites.
These are therefore the top Android web browsers with VPN features. Use these web browsers right away to safeguard your privacy and increase security. Please let us know in the comments if you are aware of any other web browsers that offer VPNs.
9. AVG Secure Browser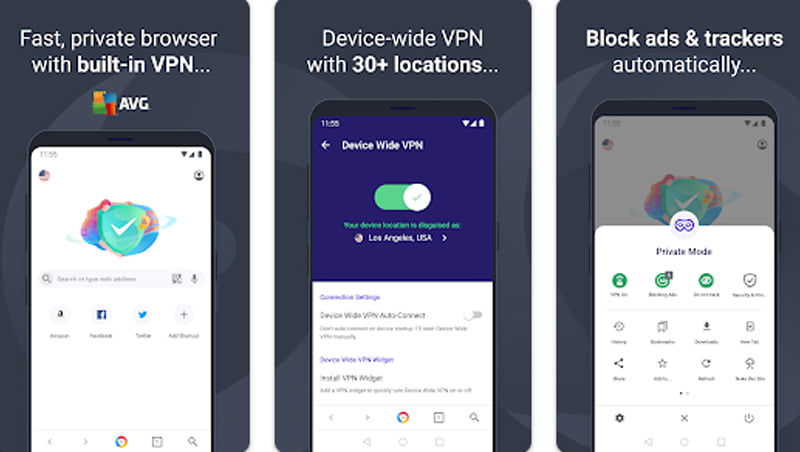 Another top web browser on the list that has a VPN is AVG Secure Browser. With AVG Secure Browser's integrated VPN, you can maintain your anonymity and access websites that are geo-restricted.
In addition, AVG Secure Browser encrypts all of your data, including your browser history, tabs, bookmarks, downloaded files, and more, to safeguard your privacy.
10. Aloha Browser Lite – Best VPN Browsers for Android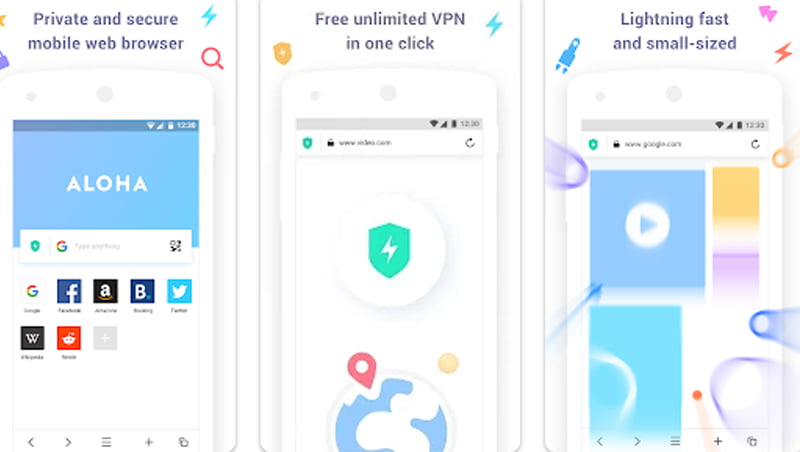 The slimmed-down version of the well-known Aloha web browser mentioned above is called Aloha Browser Lite. Aloha Browser Lite is a fast, free, and fully featured web browser that offers the highest level of privacy and security despite being a lightweight browser.
A built-in limitless VPN is also available in the web browser application to conceal your IP address. In addition, Aloha Browser Lite gives users the option to password-protect private tabs.
11. Tor Browser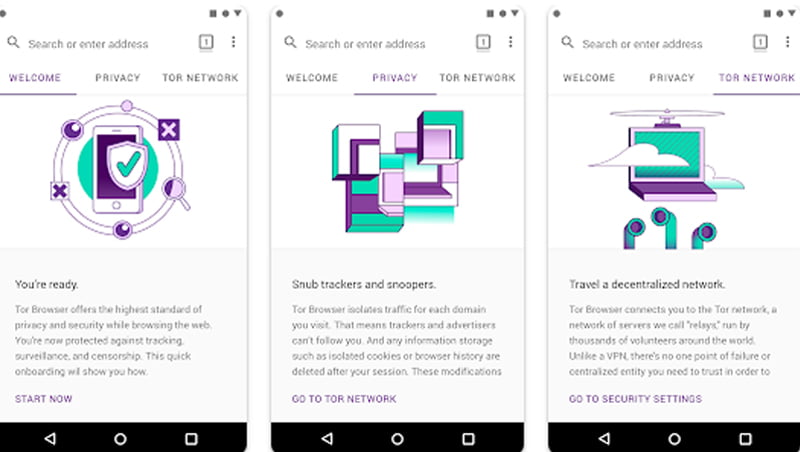 Even while Tor Browser isn't really a VPN service provider, it has an objectivity that enables VPN use. Tor uses a special method to safeguard your identity by using a multi-layered encryption system to transport communications through an open-source Tor network.
Its primary functions are online data identity protection, tracking blocking, and accessing regionally censored or ISP-restricted websites. On Android devices, this browser can be used without any restrictions on bandwidth.
12. Epic Privacy Browser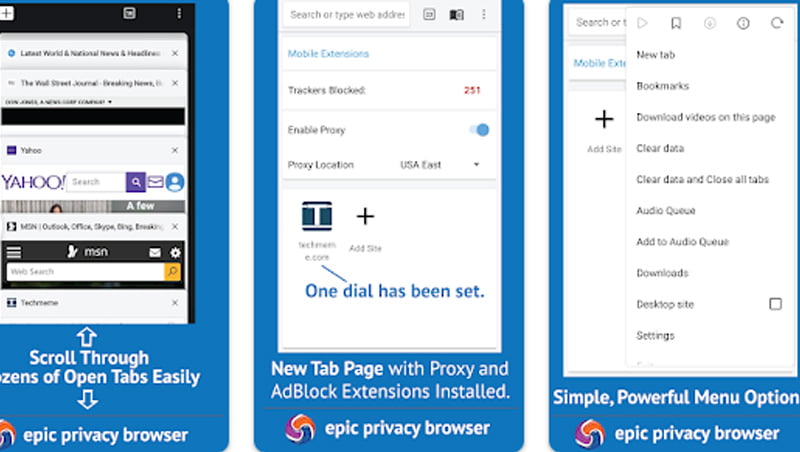 To use the built-in VPN of Epic Privacy Browser, you must download the extension for it. This VPN offers unlimited bandwidth and lets you select a proxy server located in the US, UK, Canada, Singapore, India, Netherlands, Germany, and France.
By choosing Mobile Extensions for the home page, you can download an extension from Epic's extension shop and it has a no-log policy. Although there are some differences between proxies and VPNs, they both play the same job in protecting your privacy by hiding your IP address.
Also Read: Top 15 Google Chrome Alternatives for Web Browsing