10 Best VPN Browsers for iPhone. No matter how well-protected your gadget is, hackers and tech corporations can still monitor your surfing habits. No matter if you use Google or Bing Search, trackers will unavoidably follow you from website to website.
What is VPN?
The term "Virtual Private Network," or VPN, refers to the possibility of creating a secure network connection when utilising public networks. VPNs mask your online identity and encrypt your internet activity. This makes it more challenging for outside parties to monitor your internet activities and steal data. Real-time encryption is employed.
Best VPN Browsers for iPhone
While utilizing a private web browser will get rid of web trackers, what if you want to browse more securely and hide your activities from your ISP? You should then employ a VPN.
What if I told you that an iPhone app can integrate both VPN and private browsing features? A few VPN browsers, or web browsers with built-in VPNs, are available on the Apple App Store.
You don't need to install a separate VPN client, which is the main advantage of using a VPN browser. In a single customized web browser, you will find all VPN and private browsing functions.
List of 10 Best VPN Browsers for iPhone 2022
You may download and use the best VPN browsers for iPhone listed below for free. Let's have a look.
1. Opera – Best VPN Browsers for iPhone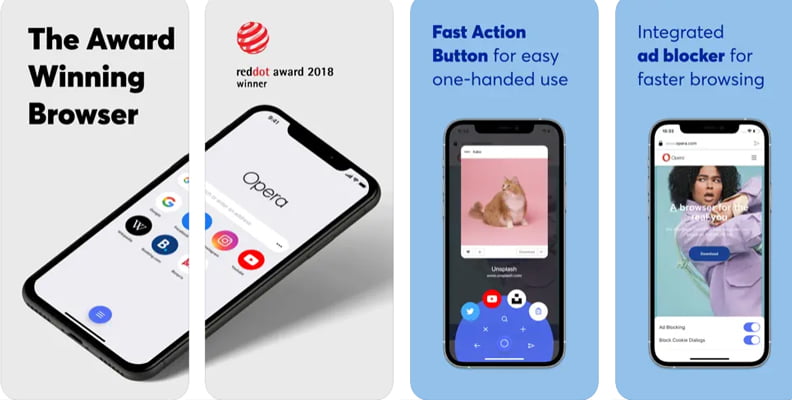 One of the most popular Android browsers with a built-in VPN in Opera. Not only does it include a free VPN for Android, but it also has an ad blocker built-in. When using Opera, nothing can impede your uninterrupted surfing experience. A customized breaking news page is the next excellent feature that sets Opera apart from other Android browsers with a built-in VPN.
You can also watch popular viral videos on Opera as an amusement. Along with entertainment, other features include quick downloading, credit card autofill, automated text wrap, and a built-in QR and barcode scanner. Opera facilitates your experience by making the search bar easily accessible. Opera VPN, another version of Opera, is accessible on iOS devices.
2. Aloha Browser
One of the greatest and most highly rated iPhone web browsers available right now is Aloha Browser. You may find each security and privacy option you can imagine in the web browser, including an ad blocker, secret tabs, a VPN, and others.
But you can use the free Aloha Browser to access a free, limitless VPN, but you are unable to choose the location. You must get the Aloha Premium version if you want to choose your VPN country.
Additional helpful features that Aloha Premium provides include support for ZIP archives, the option to use VPN with other apps, and auto-start VPN with the browser.
3. Psiphon Pro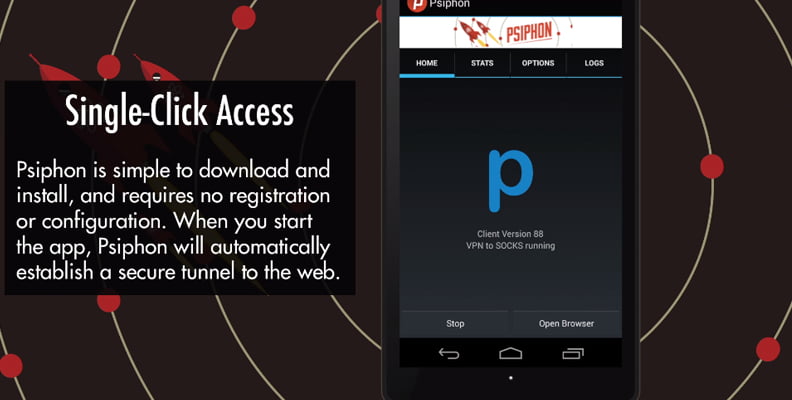 The Psiphon Pro is an Android VPN program with a browser plugin, not a browser with a VPN. However, the browser is still a VPN-enabled Android browser. Psiphon Pro is preferred by users above other browsers since it not only allows for private browsing but also safeguards your device. Additionally, it allows you to examine the activity log and app status.
4. Private Browser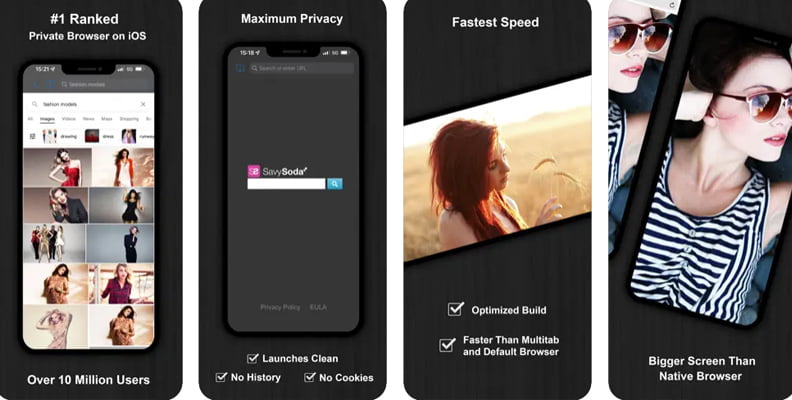 The Private Browser – VPN Proxy, used by over thousands of people, enables you to access your preferred websites while remaining completely anonymous. Despite not being as well-known as some of the other programs on the list, Private Browser – VPN Proxy nevertheless provides you with a wealth of important privacy & security options.
You may browse the web privately by automatically blocking trackers and advertisements when using a Private Browser – VPN Proxy. You can use the free, secure, and limitless VPN it offers to further encrypt your internet session.
Private Browser – VPN Proxy offers you a large selection of servers, all of which are unlocked even in the free edition, in contrast to other VPN browsers for iPhone that only provide you a small number of VPN server options.
5. Tenta Browser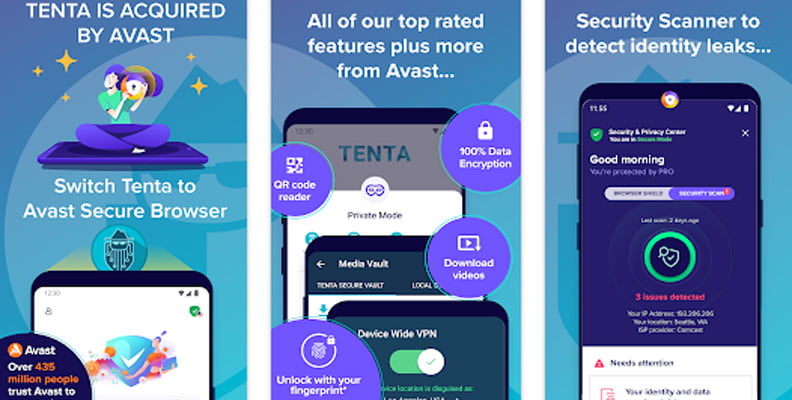 You could be seeking an Android browser with a built-in VPN, and Tenta Browser is it. Browsers are drawn to Tenta by its automatic privacy, built-in VPN, and crypto-friendly features. Your experience will be at its finest while using the Tenta browser because it includes AdBlocker, which gradually speeds up and removes pointless adverts.
A built-in video downloader and an encrypted media vault are available in the browser to protect your material from prying eyes. Your IP address, history, and bookmarks are all safe and private since this browser encrypts every piece of information that is sent or received through it. Even your passwords are encrypted using AES-256 by the browser.
6. Private TOR + VPN Browser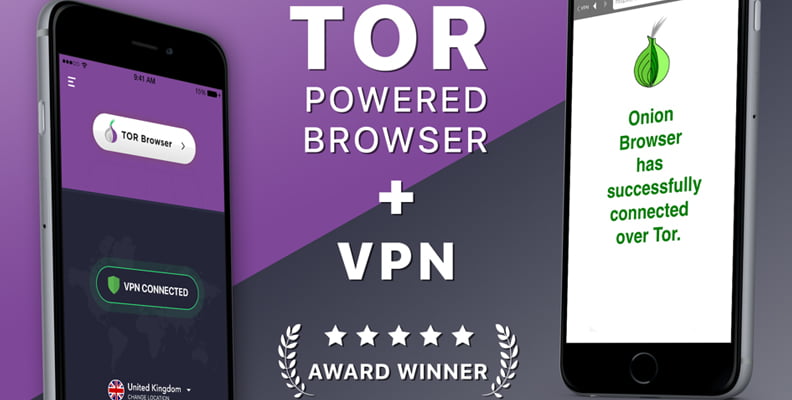 The Private TOR + VPN Browser is an iPhone app with a VPN proxy and a Tor browser. The web browser provides secure internet access tunneled over the TOR network.
Other than that, Private TOR + VPN Browser also provides unlimited VPN servers worldwide. The web browser automatically connects you to the fastest VPN server when you launch a browsing session.
7. Turbo VPN Browser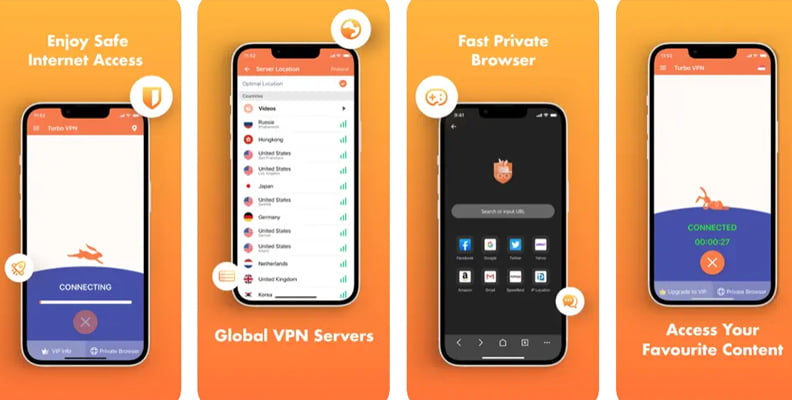 With Turbo VPN, which has over 300 million users, you can easily and anonymously visit all of your favourite websites.
Turbo VPN will prompt you to establish a VPN connection before launching the built-in private browser. Surprisingly, the default browser is speedy, packed with features, and does the job flawlessly. Full-screen advertising are everywhere in the free version, and you are unable to choose the country of your VPN server.
8. Brave Private Web Browser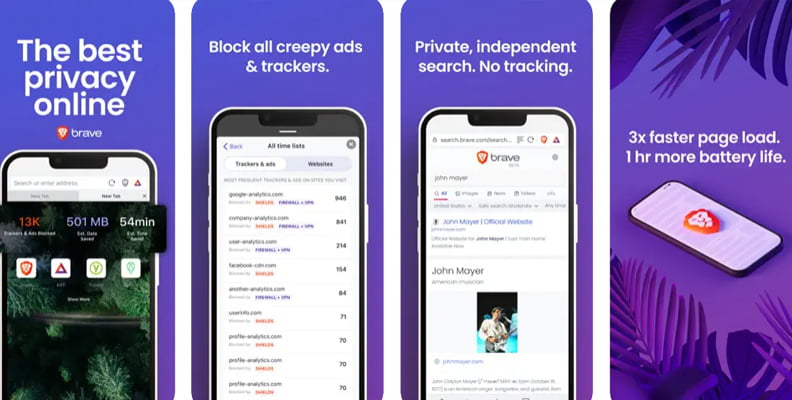 Although Brave Private Web Browser is a full-featured browser app for the iPhone, it is not as well-known as Turbo VPN Private Browser, which we have listed above. The web browser, which offers a lightning-fast web browsing experience, is already used by more than 50 million people.
Firewall and VPN are two helpful privacy features that the Brave Private Web Browser offers. Additionally, it offers a private mode that immediately disables trackers and advertisements from third parties. Only by purchasing a VPN plan for the Brave browser will the VPN feature be made available.
9. UR (beta) browser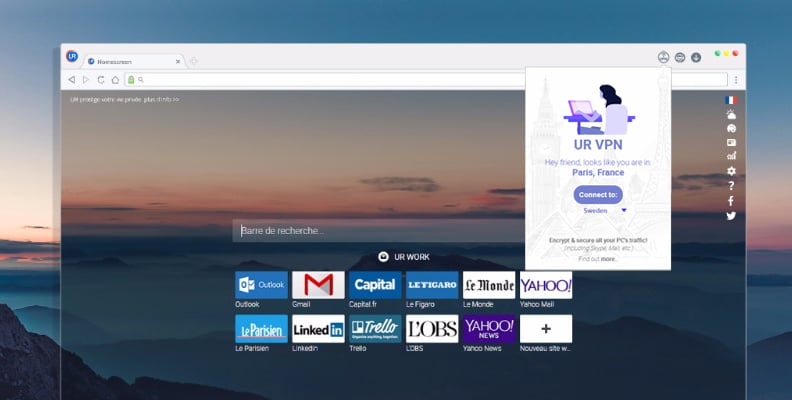 Even though it's in beta, the UR browser compares favorably to other Android browsers that have built-in VPNs. The Privacy Suite, a collection of tools that the browser includes, has three levels of privacy: High, Medium, and Low. Even if a website is closed, the privacy settings are preserved. A built-in ad blocker in the UR browser enables quick and ad-free browsing.
10. Cake Web Browser – Best VPN Browsers for iPhone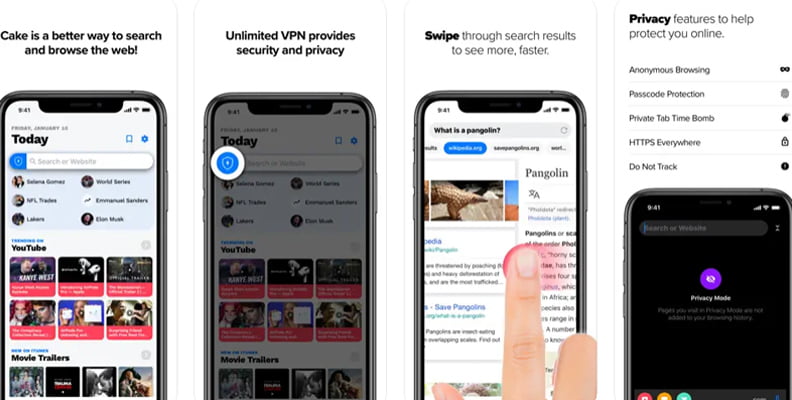 The Cake browser has a tonne of gestures that make using the internet quick and simple. You can swiftly investigate the outcome with the help of its swiping gesture. The Cake Browser offers the highest online security and never requests your username or password. Due to the built-in VPN's ability to block trackers and intrusive adverts in addition to giving you limitless access to the VPN, you may browse the internet without worrying about being tracked. You can receive a daily feed of photographs, news, videos, and other content from the Browser.
Also Read: Top 15 Google Chrome Alternatives for Web Browsing