How to Fix iPhone 14 Charging Problems? Apple is recognised for its closed-source ecosystem, which ensures that Apple device owners reap the greatest benefits from optimal software and hardware optimization. Even after paying so much, several unfortunate individuals may suffer multiple glitches or bugs, even with Apple products. Users are dissatisfied with the recently released iPhone 14 Pro and iPhone 14 Pro Max handsets due to the battery not charging issue.
It's a little disheartening for iPhone 14 series consumers to discover flaws or faults with the freshly announced flagship smartphones. However, whether you have an iPhone or an Android device, we can all agree that the device not charging issue is extremely prevalent among smartphone owners. We cannot deny that the charging-related issue may occur for a variety of causes, regardless of the pricing segment. Fortunately, we have several solutions.
How to Fix iPhone 14 Charging Problems?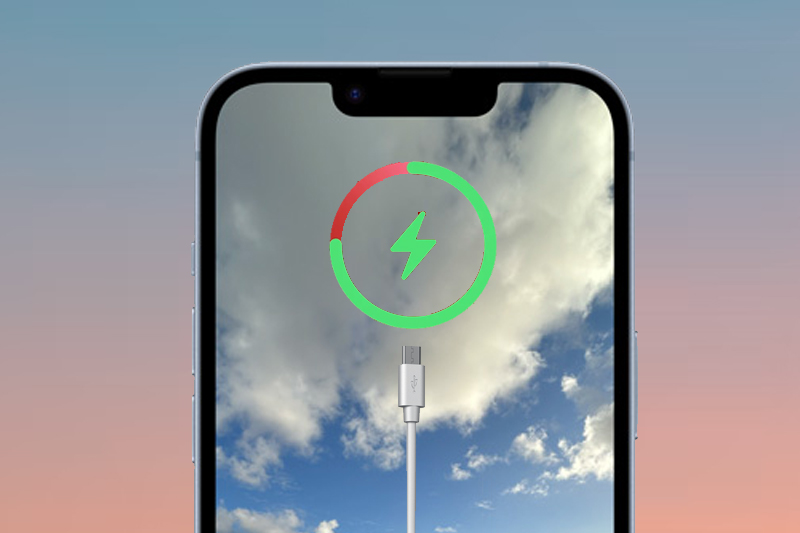 Here is the Method to Fix iPhone 14 Charging Problems:
Concerning the iPhone charging issue, unlucky customers may encounter certain challenges while attempting to charge their smartphones. For example, the battery won't charge at all, it charges slowly for more than an hour or so, an alert message displays indicating that the accessory isn't supported or authorised, the device stops charging around 80 percent or so, and so on. Don't worry if you're experiencing any of the aforementioned problems.
There could be various explanations for such a problem. Something like the iPhone didn't sit properly on the MagSafe charger, you're using a problematic back case, the wired charging cable is physically damaged, the wired charging cable isn't connected properly, issues with the charging adapter, issues with the power outlet, you're using an incompatible third-party charger, the charging port has some issues, and so on.
Method #1. Force Reboot Your iPhone
First, hard restart your iPhone 14 Pro or iPhone 14 Pro Max to clear away any temporary system problems or cache data difficulties. A standard reboot may not work for everyone. To accomplish this:
Press and rapidly release the Volume Up button, then press and fast release the Volume Down button.
Hold down the Side (Power) button for a few seconds, or until the Apple logo displays on the screen.
Release the Side button once the Apple boot logo shows.
Wait for the device to automatically reboot into the system.
Try charging your iPhone 14 Pro or 14 Pro Max again after restarting it.
Method #2. Enable Optimised Battery Charging to Fix iPhone 14 Charging Problems
If the optimal battery charging option on your iPhone 14 Pro or 14 Pro Max isn't active, make sure to enable it by following the steps below. It will allow the system to charge the battery properly throughout the night and finish the full charge in the morning, avoiding excessive charging or device overheating. To make it possible:
Open the Settings app and select Battery.
Enable the Optimised Battery Charging toggle by tapping on Battery Health.
Method #3. Update your iPhone to the Latest iOS Version
You should occasionally double-check the available software upgrades on your iPhone 14 Pro or 14 Pro Max. Though the iPhone 14 series ships with iOS 16, Apple will continue to provide frequent updates to give more bug fixes and improvements to the freshly released iOS 16 version. Apple, on the other hand, constantly releases software updates to its eligible devices. So, if you haven't updated your iPhone yet, make sure to do so now:
Go to the Settings app and select General.
Select Software Update > Set Automatic Updates to On to have the machine install updates automatically as they become available.
Your system will now look for any available updates. Tap on Download and Install if it is available. [Enter the passcode for the device]
Wait for the update installation process to complete before rebooting the iPhone.
It may take some time, so be patient.
Method #4. Enter DFU Mode to Fix iPhone 14 Charging Problems
DFU stands for Device Firmware Update and is utilised for advanced activities such as firmware updates, diagnosing problems such as bricked status, and so on. You can also use DFU Mode to downgrade to an earlier iOS version, jailbreak, SIM unlock, and so on. To accomplish this:
Connect your Mac/PC to your iPhone 14 Pro or 14 Pro Max (iTunes required).
To connect your iPhone to the PC, you'll also need a Lightning cable.
Quickly press and release the Volume Up button.
Then quickly press and release the Volume Down button.
Next, hold down the Power/Side button for around 10 seconds, or until the iPhone's display goes black.
Meanwhile, hold the Power/Side button for around 5 seconds, then press and hold the Volume Down button for another 5 seconds, before releasing the Power/Side button. But don't let go of the Volume Down button for another 10 seconds. If everything is done correctly, the display should remain dark.
When you launch iTunes on your Mac or PC, you should see the statement "iTunes has found an iPhone in recovery mode." This iPhone must be restored before it can be used with iTunes."
On your iPhone, you'll now see the option to Restore iOS.
When you're finished with the firmware restore, swiftly push and release the Volume Up button.
Then immediately press and release the Volume Down button.
Hold the Power/Side button down until the Apple logo shows.
Finally, your iPhone will restart in regular mode.
Method #5. Restore iPhone 14 from iCloud or iTunes Backup
You may need to restore your iPhone in order to retrieve the system from an iCloud or iTunes backup. Keep in mind, though, that this procedure will totally reset the iPhone system, and you may lose some data if you have not adequately saved up. As a result, before attempting this approach, prepare a complete backup.
Restore iPhone 14 with iTunes:
Open iTunes on your computer > Connect your iPhone to your PC or Mac via the USB cable.
Connect the iPhone to iTunes, and the device will be recognised.
Next, from the left pane, select the iPhone icon > Restore Backup.
To finish the restore procedure, follow the on-screen directions.
After that, your iPhone will immediately boot into the system. Please be patient as this will take some time.
Finally, your device will enter iOS, unplug the iPhone, and finish the initial setup procedure.
You're ready to go.
Restore iPhone 14 with iCloud:
Go to your iPhone's Settings app and select General.
Scroll to the bottom of the page and then choose Transfer or Reset iPhone.
Select Erase All Content and Settings from the Reset menu.
Enter the device passcode if requested to confirm the task.
Your iPhone will restart automatically > This process may take some time.
Go through the first setup process once the iPhone has booted into the system.
Sign in to your Apple ID next, and then select Restore from iCloud Backup.
Once the backup data has been selected for restoration, confirm the action to continue.
Wait for the procedure to finish> Your iPhone will then reboot to load the backup.
You're ready to go.
Method #6. Check that Your iPhone is Properly Connected to the Charger
It is strongly advised to double-check whether your iPhone is correctly connected to the charger. You may frequently encounter similar troubles if there is a problem with the charging cable or adapter connectivity of the wired charger. Disconnecting and reconnecting the lightning charger from the iPhone might sometimes resolve the problem.
Method #7. Connect the Charging Adapter to a Reliable Power Supply.
To improve charging speed, connect the charging adapter to a valid power source, such as a wall outlet. You can, however, utilise the USB 2.0/3.0 port on a computer that is not in sleep mode. Charge your iPhone using the USB ports on your keyboard or router. You can also charge your iPhone using a USB Hub, docking station, or any Apple-approved accessory such as a power bank.
Method #8. iPhone 14 Overheating will Stop Charging at 80 Percent
During the charging process, your iPhone may become slightly warmer or overheated, which might harm the battery's health. To extend the life of your battery, Apple provides the optimal battery charging feature, which limits charging above 80% if the battery becomes too warm. That implies that once your iPhone has cooled sufficiently, the remaining charging procedure will begin anew. In that case, consider keeping your iPhone somewhere colder. You can also unplug your iPhone from the charger to allow it to cool down. Excessively expose your iPhone to direct sunlight or excessively cold temperatures.
Method #9. Use a Different USB Cable and Charging Adapter to Fix iPhone 14 Charging Problems
Make sure to charge your iPhone 14 Pro or iPhone 14 Pro Max with a different USB cable and adapter to see if the problem persists. If charging works properly, the prior one has some problems.
Method #10. Keep Your iPhone Charging in Power Off Mode
You should also charge your iPhone for at least an hour while it is turned off to ensure that the battery is charging. If the smartphone is still not charging in the switched-off mode after an hour, you should take it to an Apple service facility as soon as possible.