10 Best Night Mode Apps for Android. Let's face it: technology is advancing quickly all around us. People now prefer using their cellphones and laptops for daily tasks. In actuality, our reliance on cellphones has surpassed that on desktops.
Using computers and cell phones is not a terrible thing. However, due to the blue light that is projected from the screen of these devices, excessive use can harm your eyes. Our brain cells are made to believe it is daytime when blue light from technological devices is present.
What is the night mood?
We frequently use our smartphones. Therefore, it should not come as a surprise that too much screen time can have negative effects on health, including reduced attention spans, disrupted sleep patterns, and eye strain. Where Night Mode differs is in this situation. To reduce eye strain when using your device in low light, OEMs have started to offer the Night Mode function on Android. This is how you activate Night Mode.
Best Night Mode Apps for Android
Therefore, using a smartphone excessively can harm your eyes. The good news is that you can take a few steps to lessen the risk of eye injury, and the best place to start is by utilizing apps that block blue light. This article will go through some of the top blue light filtering Android apps available right now.
List of 10 Best Night Mode Apps for Android
Here is the list of night mode apps for Android:
1. Blue Light Filter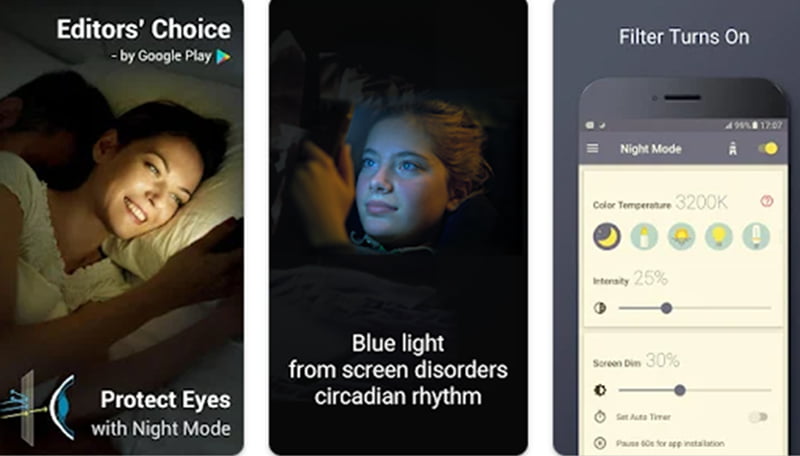 Another software is now available for your phone that functions as a night mode app. Leap Fitness Group's Blue Light Filter app shares the Twilight app's Editors' Choice designation on the Google Play Store. By switching the screen to natural hues, this blue light filter software helps to reduce the damaging blue light. Over time, it makes it easier for you to fall asleep.
2. Dimly – Screen Dimmer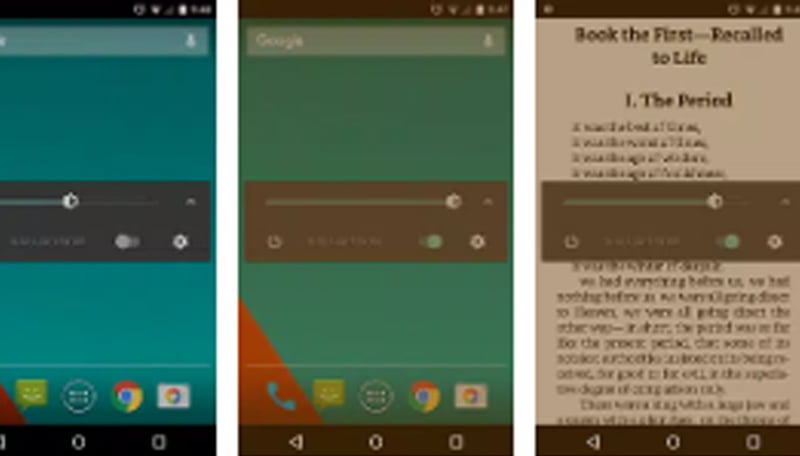 Dimly has all of your needs met if you're seeking a night mode app that performs effectively in low light conditions. Because this program lowers the screen brightness past what your Android's normal settings allow, it is perfect for late-night readers and mobile gamers. Additionally, shaking your smartphone will increase screen brightness. The best thing is that there are no intrusive adverts in this blue light filter app.
3. Night Mode for Samsung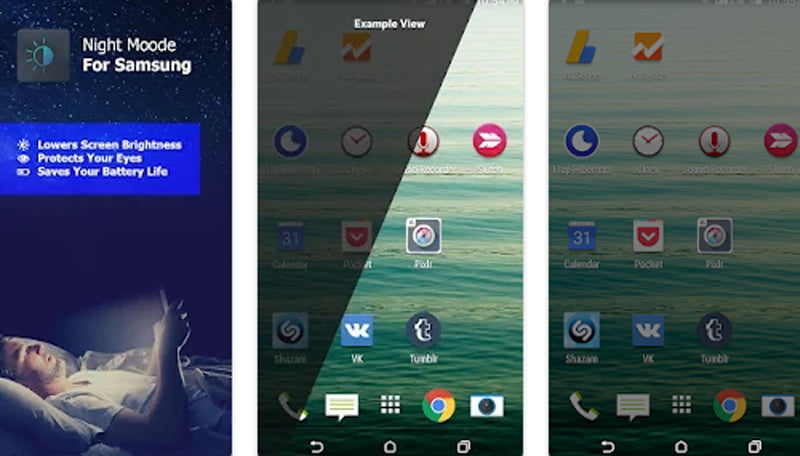 Install this software right away if you use a Samsung and are looking for the greatest night mode app! This app has a global rating of 4.3 stars and is 2.0 MB in size. "Night Mode for Samsung" is a reliable tool for adjusting screen brightness. Additionally, this program protects your eyes in addition to helping you save battery life. Night Mode for Samsung may be downloaded from the Google Play Store.
4. CF.lumen – Night Mode Apps for Android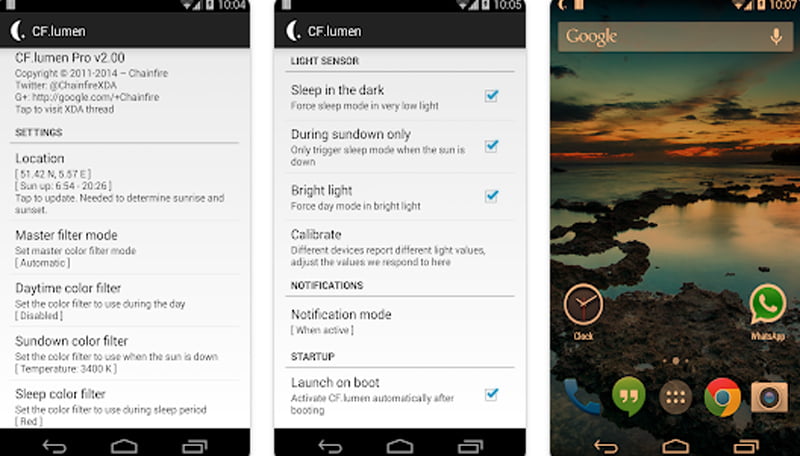 Another top Android blue light filter on the list, this one adjusts the colours on your device depending on the position of the sun or your personal settings. The fact that it functions on every Android version is a plus. It also provides a variety of colour filters, each of which can be customized.
5. Midnight – Night Mode Apps for Android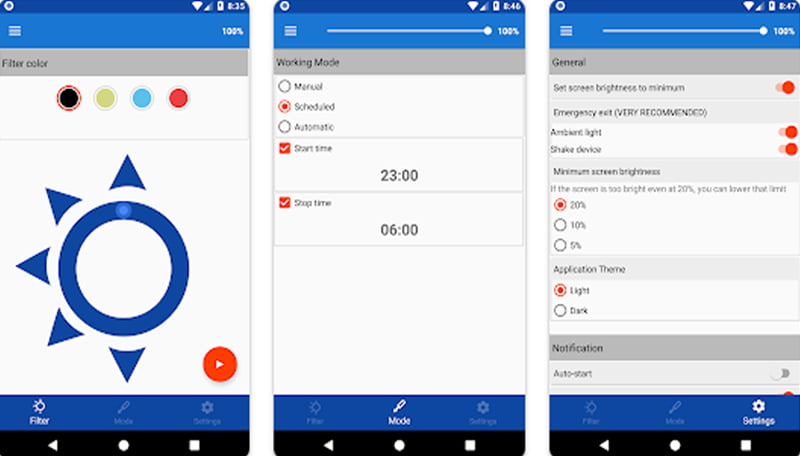 Another fantastic Night Mode and Blue light filter app you'll adore is called Midnight (Night Mode). The app's goal is to reduce eye strain. The app significantly lessens eye fatigue by altering the display's colour temperature. This program adds a screen filter on top of your screen, more akin to a Bluelight filter.
Midnight (Night Mode) not only lessens eye strain but also significantly extends battery life. If your phone has an AMOLED display, the software can help you conserve battery power even more. These are the top Android Bluelight filter apps. These apps make it simple to cut back on the blue light that smartphone screens generate. Please share any further similar apps you may be aware of in the section below.
6. Night Owl – Night Mode Apps for Android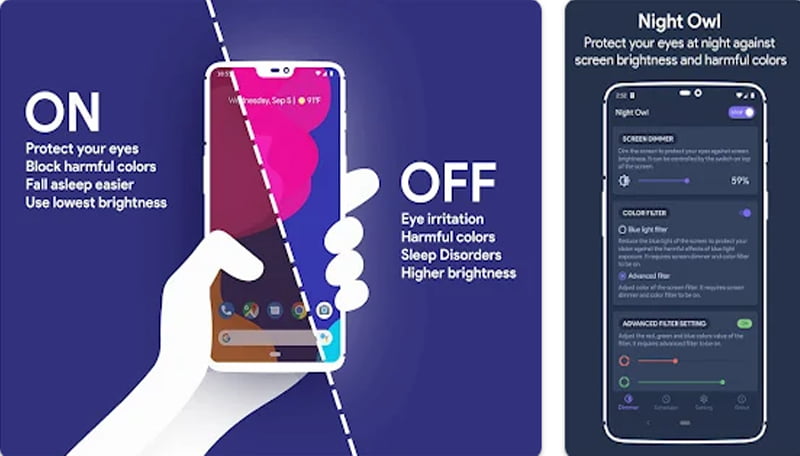 Another important component of the night mode software that aids in shielding your eyes from damaging colours and excessive screen brightness is Night Owl. You can choose from a variety of options in this program, including the colour filter, which includes the Blue Light Filter, and the Advanced Filter. These settings help reduce the toxic colour that has an impact on the health of our eyes and modify screen brightness. You may download this clever software from the Google Play Store.
7. Darker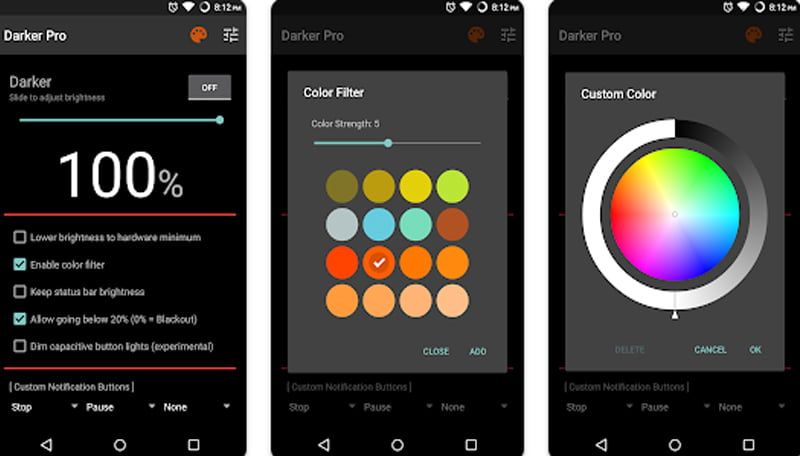 So, if you're seeking Android software that will let you drastically reduce the brightness of your phone's screen, look no further than Darker (Screen Filter). It is a free, little Android software that lowers the brightness of your screen to alleviate eye strain. It is available on the Google Play Store. You may apply colour filters using the software, and it works well with all display types.
8. sFilter – Night Mode Apps for Android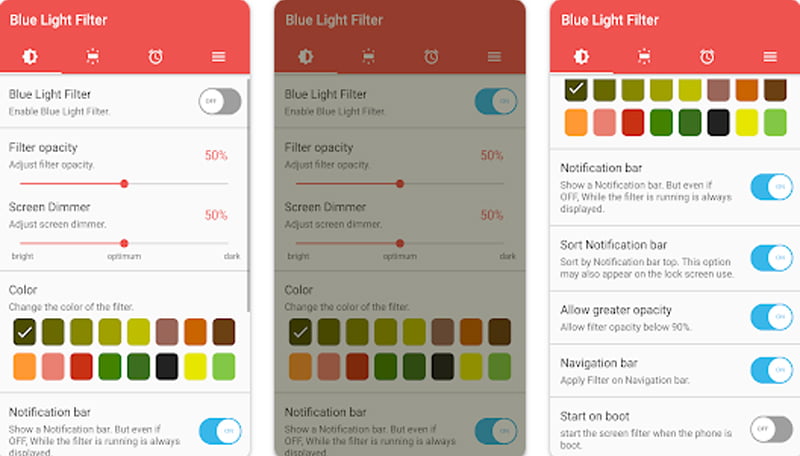 On your Android smartphone, the Sfilter app adds a Blue Light filter or Night mode. The amazing part about sFilter is that it provides a filter with 12 different colour options. Additionally, the software offers a variety of functions, including the ability to change the colour balance in the menu bar and notification bar. There are no adverts and the software is free to use.
9. f.lux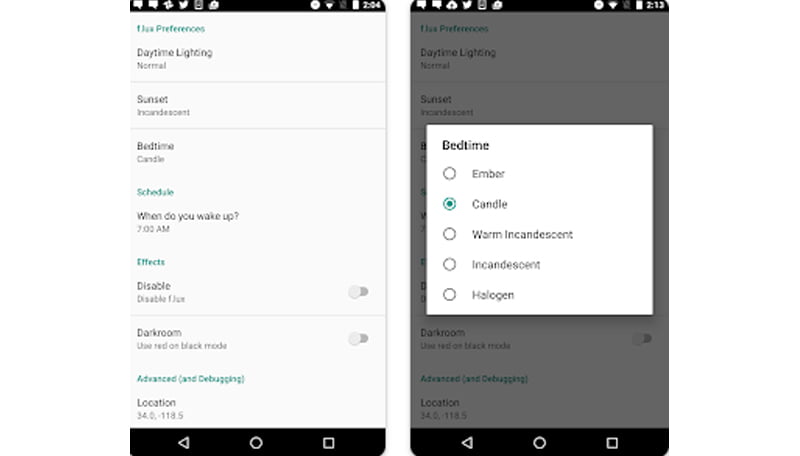 Well, the best blue light emitting app for Windows 10 is called f.lux. On Android, it didn't succeed in making an impression. However, you may download the f.lux app from the Google Play Store for free and give it a try. The f.lux app's worst feature is that it needs root access to function; otherwise, it is worthless. You can test f.lux on your smartphone if it has been rooted.
10. Twilight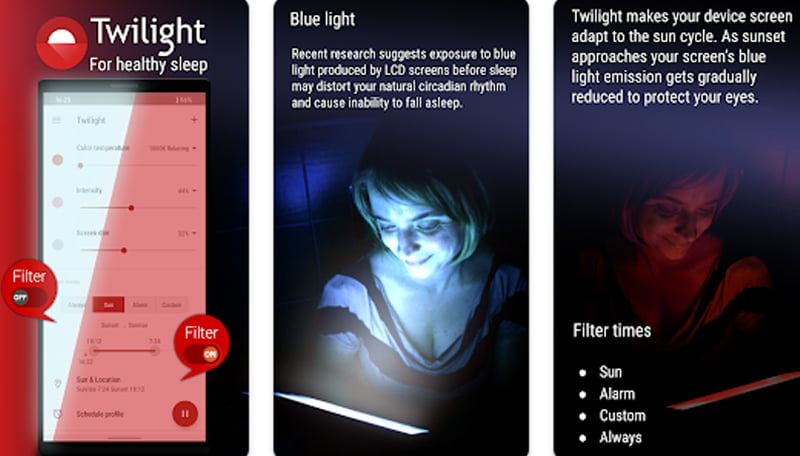 The most well-known and highly rated night mode app is called Twilight. It is a blue light filter app that reduces the amount of blue light your phone's screen emits. Especially at night, limiting blue light provides improved eye health and decreased eye irritation. Additionally, the software functions flawlessly on screens of all shapes and sizes, including AMOLED ones.
Also Read: 10 Best Location Sharing Apps for iPhone 2022