How to change Safari background on Mac? Safari now has a slew of new customization options thanks to macOS Big Sur. You may now customise its appearance to suit your working style and preferences, such as altering the start page background and adjusting favourites, Siri Suggestion, Reading List, iCloud Tabs, and so on. A great background image, like wallpaper, can help you get into the zone. Apple has helpfully provided several appropriate Safari backgrounds, or you can create your own.
What is background wallpaper?
On computers, a wallpaper or background (also known as a screensaver, desktop background, desktop picture, or desktop image) is a digital image (photo, drawing, etc.) that is used as a decorative background of a graphical user interface on the screen of a computer, smartphone, or other electronic devices.
Wallpapers are typically utilised on the desktop of a computer, whereas they serve as the background for the home screen of a mobile phone. Though most smartphones have a preset background image, most newer gadgets allow users to alter the background image manually.
How to change Safari background on Mac?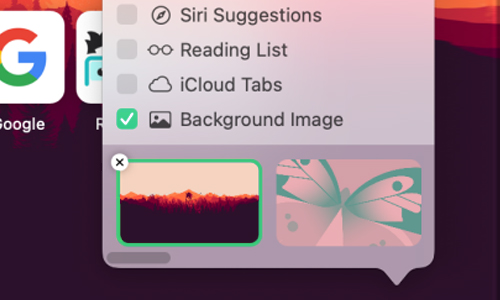 Here is the method to change Safari background on Mac:
Open Safari on your Mac and select the three-toggle symbol in the bottom-right corner of the home screen.
A menu with icon options will appear; navigate through the default background options or click "+" to add a custom one.
Browse through the folders and select the image you wish to use as your Safari backdrop.
To get a transparent preview of an image as the background, click on it.
Once you've made your decision, click Choose to confirm.