How to set a recovery contact for Apple ID on iPhone, iPad, and Mac? Recovering your Apple ID has always been challenging, whether you forget your Apple ID password or the device passcode. The unlock key, however, is now just a phone call away, owing to a new function. All you have to do is create a recovery contact for your Apple ID, and whenever you get into trouble, your family and friends will be able to assist you. So, without further ado, let's get started.
What is the recovery contact for Apple ID?
You can add up to five trusted friends and family members as recovery contacts with the new feature. They can also assist you in recovering your Apple ID if you have forgotten your password or have been inadvertently locked out. Until now, the only way to unlock your locked iPhone was to reset it. Fortunately, Apple has provided a safe middle ground.
The account recovery contact can assist you in confirming your identification with iCloud. When you are locked out, the account recovery contact can generate a six-digit recovery code that allows you to reset your Apple ID password and regain access to your account and data.
How to set a recovery contact for Apple ID on iPhone, iPad, and Mac?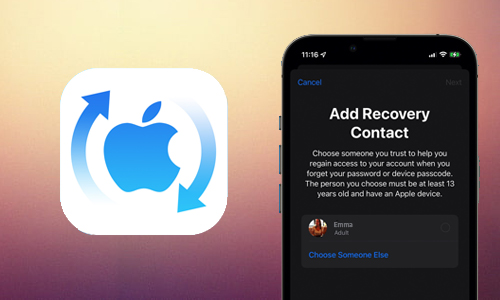 Here is the list of 2 methods to set a recovery contact for Apple ID on iPhone, iPad, and Mac:
Method #1. Set up account recovery contact on iPhone and iPad
Open Settings and then tap your name at the top.
Choose Password & Security.
Select Account Recovery.
Choose Add Recovery Contact and then Add Recovery Contact again.
Use Touch ID or Face ID to unlock your device.
Select a contact of your choosing.
Select Add.
To submit the request to the contact, click Send.
To exit, tap Done.
The contact must now accept your request, and you will be notified when they do. If they later decline or remove themselves, you will receive a notification asking you to select a new contact for account recovery.
Method #2. Set up account recovery contact on macOS Monterey
Select System Preferences from the Apple menu.
Next to your name, select Apple ID.
Select Password & Security from the sidebar.
Click Manage under the Account Recovery section.
Under the Recovery Assistance section, click +.
Select Add Recovery Contact and enter your device password to continue.
Select the contact by clicking + Choose someone.
Then, to send the text message, click Continue.
Done by clicking Send.
How to remove an account recovery contact?
Go to Settings -> your name.
Tap Password & Security -> Account Recovery.
Tap the contact's name under Recover Assistance (For Yourself: Account Recovery for).
Choose Remove Contact.
Also Read: How to Reset Restrictions Passcode on an iPhone?