How to hide or show the Dock on Mac? The Dock on your Mac houses all of the apps that you use on a regular basis. Given its user-friendly interface, it's no wonder that the Dock is a popular launchpad for many macOS users. But you don't always want to see it. Fortunately, you can conceal the Dock on your Mac. The procedure is simple and quick; you can utilise the keyboard or change various System Preferences settings.
How to hide or show the Dock on Mac?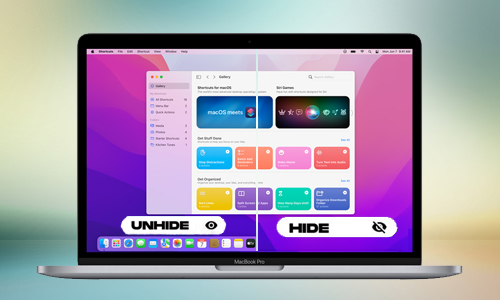 Here is the list of methods to hide or show the Dock on Mac:
Method #1. Using keyboard
In macOS, you can hide the Dock by hitting Command + Option + D. Simply hover your cursor over the bottom of your screen to re-display the Dock. Simply use the shortcut again to keep the Dock visible on your Mac. If you can't remember this keyboard shortcut, you can hide and show it in System Preferences.
Method #2. hide or show the Dock automatically
You can hide and expose the Dock on your Mac by going to System Preferences; this is a one-time task, so you don't have to remember that shortcut.
Start System Preferences.
Select Dock and Menu Bar.
Select the option to automatically hide and show the Dock.
After that, the Dock will automatically hide when not in use; to open programmes from the Dock, simply hover your mouse over the bottom of your screen. Many people overlook this feature of macOS; yet, concealing the Dock saves a significant amount of space (especially on MacBook Airs, which have less screen real estate).
Also Read: How to hide desktop icons on Mac?