How to use your MacBook in clamshell mode? MacBook clamshell mode has been around for a while. Clamshell mode is also known as closed lid mode. It's a novel technique to make the most of the little yet powerful Macs. You get the desktop experience while yet maintaining the mobility of the Macs.
The clamshell mode is highly useful for folks who use Macs for both works and play. There's no turning back once you start using your Mac Book in clamshell mode. You can enjoy Macs' power on larger, higher-resolution monitors. If you want to use the powerful Mac and create a productive desktop experience, here's how to use your MacBook in clamshell mode. But, before we go any farther, let's cover some ground.
What is a clamshell?
Clamshell mode allows you to use your Mac normally even with the lid closed. It is useful when you are multitasking in several windows on your Mac and using the system for both work and play. Switching to a larger display minimises eye strain, allowing for a more pleasant experience if you work long hours.
While the clamshell mode is mostly used to keep your MacBook display closed, it's vital to notice the Macs that support this function as well as the peripherals required to set it up.
Clamshell mode supported MacBooks
You can connect one external display to the Thunderbolt/USB 4 ports on the MacBook Air, 13-inch MacBook Pro, iMac, and Mac mini.
You can connect to either of the ports with the Thunderbolt icon on the iMac.
Accessories required
Keyboard and mouse
External Display
Thunderbolt cable
Thunderbolt to HDMI converter
How to use your MacBook in clamshell mode?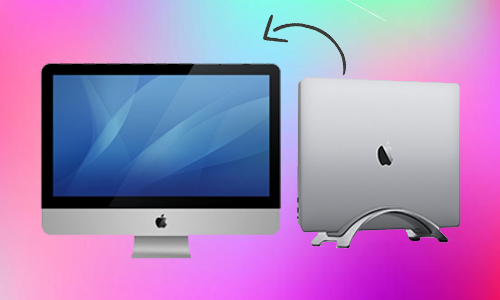 Here is the method to use your MacBook in clamshell mode:
If you've never done it before, here are some simple methods to connect your Mac Book to clamshell mode.
Check that your MacBook is properly charged. Without attaching the adapter to your Mac, using clamshell mode is nearly impossible.
Use a Thunderbolt cable to connect your MacBook to an external monitor.
Then connect your MacBook to a keyboard and mouse. The keyboard and mouse may be wired or wireless.
Once everything is in place and the MacBook's screen is visible on the external monitor, simply close the lid.
If you haven't already done so, here are the steps you must take before using your MacBook in clamshell mode:
Connect your external display to your MacBook using the necessary cords (or hub). Following the connection of your external monitor, your monitor may prompt you to select a few options.
Go to System Preferences Displays to improve monitor configuration and make adjustments to display preferences.