How to convert PDF to Word on Mac? PDFs are ubiquitous in our daily lives. They are required for our duties and for the storage of official data. It is sometimes necessary to convert a PDF file to Word for a variety of reasons. We'll go through how to convert PDFs to Word today because they include dynamic data that must be updated frequently. Converting PDF to Word on a Mac is a simple process, and there are five methods for doing so listed below.
How to convert PDF to Word on Mac?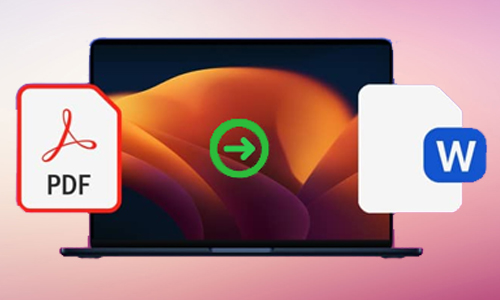 Here is the list of 4 methods to convert PDF to Word on Mac:
Method #1. Converting PDF to Word using Automator
Start Automator.
Select Workflow and press the Choose button.
Select Files and Folders from the left column, then double-click Ask for Finder Items.
Return to the left pane and select PDFs, then drag or double-click Extract PDF Text.
Choose Rich Text from the drop-down menu.
Choose where you wish to save the Automator extracted file as well.
Then, at the top of your screen, pick File, Save, and change the file format to Application.
Now, open the application and select the PDF to be converted to Word.
Method #2. Use online PDF to Word converters
Several websites exist that allow you to convert PDF files to Word on your Mac. Knowing a few of these sites is useful since you can access them using any browser on any operating system. Here are some of the best sources for free PDF to Word converters online.
SimplyPDF
IlovePDF
Zamzar
SodaPDF
CleverPDF
Smallpdf
Online PDF
Method #3. Convert using Adobe Acrobat Reader
Launch Adobe Acrobat to view the PDF file.
From the right column, select Export PDF.
To export your PDF to any format, select Microsoft Word.
Select the Export option.
Choose a file location.
Change the file name and save it.
Method #4. Convert PDF to Word with Google Docs
Connect to Google Drive.
Upload the PDF file to be converted.
In the top-right corner, click the Settings symbol.
Click Done after checking the box next to Convert Uploads.
Select Open with Google Docs from the context menu when you right-click on the PDF file.
In addition, to obtain the file in Word format, complete these steps:
File Download Microsoft Word (.docx).
Best PDF to Word converters for Mac
Apps that convert PDF to Word can be downloaded from the Mac App Store and the relevant app's website. The majority of them do not require an internet connection, but a few do.
PDF Element 7
EasePDF
Wondershare PDF Converter for Mac
Mac PDF Converter Ultimate
Cisdem PDF Converter OCR for Mac