How to hide the 2021 MacBook Pro notch? Apple's 2021 MacBook Pro models included an unexpected display notch, or as Apple refers to it, a camera housing that stands dead centre at the top of the screen. This page covers all of the software-based techniques for hiding the notch or making it play along with your apps.
The emergence of the notch in the centre of the menu bar is a blight on an otherwise great screen for some people. Others complain that its location actively interferes with app menu elements. Many people would prefer not to have it at all. Fortunately, there are various methods for hiding the notch or making it compatible with app menu bars.
How to hide the 2021 MacBook Pro notch?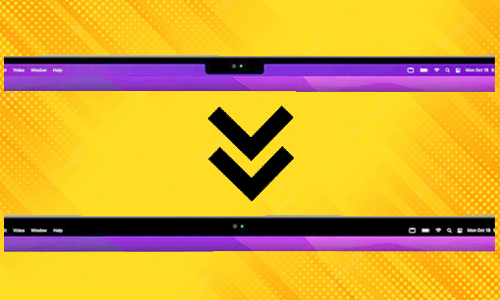 Here is the list of 3 methods to hide the 2021 MacBook Pro notch:
Method #1. Scale app menu bars
While concealing the menu bar works for most programmes, it fails for apps that rely heavily on menu bar components. In certain cases, the camera notch obscures menu items, which can be rather distressing.
Fortunately, Apple has recognised the problem and implemented a useful function that automatically scales the app's menu bar size to fit beneath the notch.
Start by opening the Application folder.
Select the desired app by right-clicking it.
From the contextual menu, choose Get Info.
Check the box next to Scale to fit below built-in camera in the General section.
Method #2. Go fullscreen mode
The simplest and quickest approach to hide the notch is to launch the app in fullscreen mode. The option automatically darkens the menu bar, concealing all of its contents, including the notch. And, because most native and third-party programmes support fullscreen mode, it is also fairly widespread.
To enable fullscreen mode in any app, click the green round (fullscreen) button in the upper left corner of the window. You may also activate fullscreen mode with a keyboard shortcut: Control + Command + F.
Close this window and restart the app; it will change automatically based on the notch area. Notably, this does not apply to the entire system; you must enable the setting for each programme individually.
Method #3. Use third-party apps to hide the 2021 MacBook Pro notch
The wonderful thing about problems in Apple's utopia is that there may be an app for it. And, fortunately, there are some excellent apps for those who despise the notch.
De-Notch-ifier
TopNotch
Forehead