How to Show Battery Percentage on iPhone 14? Those who use iPhones on a regular basis should monitor the battery percentage. Otherwise, you run the danger of having a dead gadget in the middle of a crucial chat with a coworker or a friend.
Due to several icons on the status bar of Face ID-enabled iPhones, the battery Percentage display on iPhone 14, iPhone 14 Plus, iPhone 14 Pro, iPhone 14 Pro Max, 13, 12, 11, and XR series differs slightly from iPhone SE, 8, and other older generations. Here are simple techniques for displaying the battery percentage on an iPhone 14 or previous model. You'll also get advice on how to fix your iPhone's battery depleting quickly.
How to Show Battery Percentage on iPhone 14?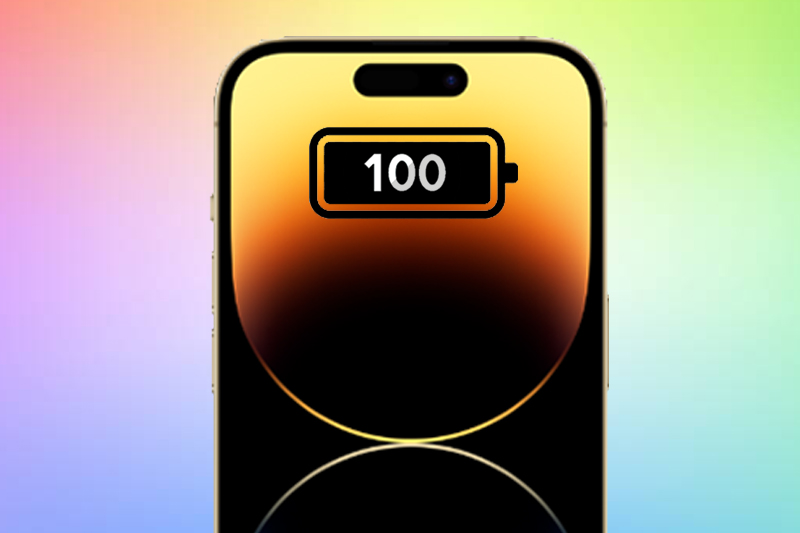 Here is the method to Show the Battery Percentage on iPhone 14:
As previously noted, symbols such as WiFi, cellular signal strength, and others usually take up space on the top screen, leaving no area on Face ID-enabled devices for a battery percentage display.
So, do you need a simple method on how to easily display battery percentage on iPhone 14/13? Consider the following approaches:
Method #1. Use Settings
It is simple to enable battery percentage on the iPhone 14 and iPhone 14 Pro. Follow the instructions given below to display the battery percentage.
On your iPhone 14 or iPhone 14 Pro, open the Settings app.
Scroll down to the Battery option.
Finally, toggle the Battery Percentage switch on.
When this option is enabled, the iPhone 14 displays the percentage of remaining battery life.
Method #2. Charge Your iPhone to Show Battery Percentage on iPhone 14
This method, while requiring the usage of a wireless charger or a Lightning cable as well as an outlet, is another rapid method. This is how it's done:
Connect your iPhone charger 14/13/12/11 to a power outlet.
Check the battery percentage on your iPhone while it is charging.
To access the lock screen if the display is switched off, press the right-side side button. This will display the precise battery life of your iPhone.
Method #3. Use Control Center
The most current versions of iOS are markedly different from prior versions. One of these distinctions is that customers must understand how to enable battery percentage on iPhone and how to turn it off on previous versions.
This is not true for the iPhone 14/13 because it is a default setting. You only need to know where to look to check the iPhone 14 Pro/13's battery percentage. Follow the steps outlined below:
To access the Control Center, swipe down from the top right corner of the iPhone 14/13 screen.
The battery percentage is displayed next to the battery icon in the upper right corner of the screen.
To close the Control Center, swipe up or click on the background.
This method is advised for regularly monitoring the battery percentage.
Method #4. Ask Siri to Show Battery Percentage on iPhone 14 Pro
Speak with Siri for a more direct approach. This is only for iPhone users who have Siri turned on. Simply ask Siri to check the battery life of your iPhone 14/13/12/11/XR. Follow the instructions below:
To reach Siri, press and hold your device's side button. Alternatively, you might say "Hey Siri."
Inquire, "How long does my device's battery last?"
Siri will reply with the exact amount of battery life left on your iPhone.
Method #5. Add a Battery Widget
Here's another useful method for monitoring the battery percentage of your iPhone 14/13. The battery widget allows users to conveniently check the battery percentage on their devices. Follow the steps below to add a battery percentage widget to your device's home screen:
Gently tap the screen and hold until the icons begin to jiggle. Then, in the upper-left corner, press the Plus button.
Select "Batteries" from the widget's pop-up menu. Swiping back and forth to see the options allows you to select the style of your widget.
Select your favourite option by tapping "Add Widget."
The widget should now appear on the home screen of your iPhone. Drag it to the desired area on the screen, then click "Done."
Method #6. Download iOS 16
You can skip this step if you recently purchased an iPhone 14, iPhone 14 Plus, iPhone 14 Pro, or iPhone 14 Pro Max. Apple's most recent devices should already have iOS 16 installed.
If you're using an older device, you'll need to download iOS 16 in order to proceed.
Follow these procedures to get iOS 16:
Launch the Settings app.
Scroll down and click on General.
Select the second option. Update Software
Wait for your iPhone to check for updates.
To obtain the most recent iOS update, select Download and Install.