How to disconnect the iPhone from Mac? The Apple ecosystem enables seamless communication between all of your devices. The seamless interoperability between Macs and iPhones highlights this particular reliance. What happens, though, if you don't want them to collaborate? Not to worry! You can always use your Mac and iPhone independently by unplugging them from one another.
However, you would have to manually unpair the two, particularly if you had previously configured them to cooperate. You can disconnect your iPhone from your Mac in a number of ways, and I'll walk you through them all. Move along!
How to disconnect the iPhone from Mac?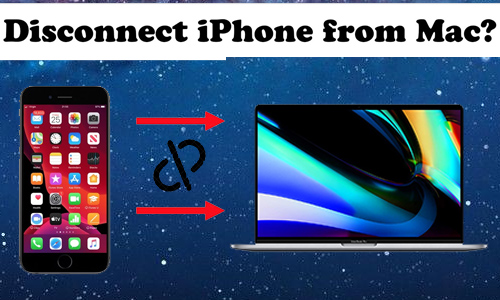 Here is the list of 10 methods to disconnect the iPhone from a Mac:
Method #1. Mac's Finder
In general, unless your iPhone is linked to your Mac through a USB cable, it shouldn't show up on the Finder on your Mac. The solution should be as simple as detaching the USB cord. However, if you previously configured Finder to identify your device using your Wi-Fi network, your iPhone might still appear there.
Just select your iPhone in the sidebar. Go to Options under General and uncheck Show This iPhone when on Wi-Fi.
Method #2. Disable Mac from using an iPhone's Personal Hotspot
Go to the menu bar and select the Personal Hotspot icon to access the Wi-Fi menu on your Mac to unpair it from your iPhone's personal hotspot. If your iPhone is in use, the name should be blue. To disconnect and choose another hotspot or Wi-Fi network, click the Personal Hotspot icon on its left.
Your Mac will either immediately connect with your iPhone or prompt you to join in if you connected it to the internet using your iPhone as a hotspot. If this is something you wish to prevent:
Go to System Preferences -> Network -> Wi-Fi.
Away from Personal Hotspots is selected.
Method #3. Unpair your iPhone via Bluetooth
In features like Handoff and Universal Clipboard, the Apple ecosystem employs Bluetooth to enable two devices to operate together without any issues. The two devices can't communicate if you turn off your Bluetooth because other continuity requirements, such as Wi-Fi, are present.
Go to Settings Bluetooth and toggle Bluetooth off on your iPhone to turn it off. If it appears under My Devices, you can delete it from the list by selecting Forget This Device from the Info I button by pressing it.
Go to the menu bar, click the Bluetooth icon, and toggle Bluetooth off to turn it off on your Mac.
Method #4. Disconnect AirDrop to disconnect the iPhone from Mac
Disconnect AirDrop On iPhone:
To stop your iPhone from being displayed as an AirDrop destination on your Mac, go to Settings General AirDrop and select Receiving Off. But by doing this, you also make it impossible for others to find you.
Disconnect AirDrop On Mac:
Simply go to Finder, click AirDrop in the sidebar, and select the appropriate option from the drop-down menu next to Allow me to be discovered by: choosing No One. to stop your iPhone from identifying your Mac.
Method #5. Disable Handoff
On iPhone:
On the iPhone, you may turn off Handoff by navigating to Settings -> General -> AirPlay & Handoff.
By using Disable Handoff:
Deselect Allow Handoff between this Mac and your iCloud devices by going to the Apple menu, selecting System Preferences, clicking General, and then clicking the bottom.
Method #6. Stop iCloud syncing
By using Mac:
Go to Apple menu -> System Preferences.
Click Apple ID -> select iCloud on the sidebar.
Uncheck any options or services, including Contacts, Reminders, and Mail, that you don't want your Mac to sync with your iCloud.
by using iPhone:
Go to Settings → tap your name → select iCloud.
To stop synchronising, toggle off the desired services.
Method #7. Disable Text Forwarding to disconnect the iPhone from Mac
On Mac:
On your Mac, launch Messages.
In the menu bar, select Messages and then Preferences.
On the iMessage tab, click.

If you want to get iMessages but not SMS, choose your Apple ID.

To completely uninstall Messages on your Mac, click Sign Out.
On iPhone:
To stop receiving iMessages from your Apple ID, simply go to Settings Messages touch Send & Receive deselect Apple ID.
Method #8. Disable Receiving Calls on iPhone
Go to Phone under Settings.
Toggle Calls on Other Devices off by tapping it.
Optional: Toggle off Allow Calls on Other Devices if you only want to receive calls on your iPhone.
Method #9. Keep your Notes to disconnect the iPhone from Mac
In addition to syncing emails and calendars, iCloud also allows you to sync notes between your iPhone and Mac, which is, to be honest, really useful—especially if you use Notes for saving photographs, clipping articles, working with others, etc.
Here is a detailed guide on how to use Notes on your iPhone. We've also produced a number of how-to articles about using Notes on a Mac.
You can turn off syncing and save your Notes locally on your iPhone if you don't want them to sync with your Notes on your Mac. Turn on the On My iPhone Account setting for notes under Settings.
Method #10. Remove the device from Apple ID
Removing one of your devices from your Apple ID is the best approach to stop communication between your iPhone and Mac. It is inevitable that they will communicate as long as they are both logged in with your Apple ID.
Remember that using the same device will not allow you to remove a device from your Apple ID. Select your iPhone from the sidebar in Apple ID's System Preferences on your Mac, then hit Remove from the account.
If you're using an iPhone, open the Settings app, enter your name, choose your Mac, and then choose Remove from the account.
If you're on your iPhone, go to Settings -> [your name] -> select your Mac -> tap Remove from the account.