How to fix Not enough space to install macOS Ventura? Every year, Apple releases a new version of macOS with new features and benefits. And the most recent version, macOS Ventura, is no exception. However, if you are unable to use these capabilities because your Mac does not have enough space to install macOS Ventura, we may be able to assist you.
How much disk space do you need to update macOS Ventura?
To update to macOS Ventura, your Mac will require approximately 24GB of accessible storage space. The installer is approximately 12GB in size, and it is recommended that you have twice that amount of space available.
Click the Apple logo About This Mac to enter the Storage tab and wait a few minutes for macOS to assemble available disc space data.
You can use this technique to clear up space on your Mac, or you can download CleanMyMac X, which is a far better alternative. The programme constantly analyses your Mac and shows you how much disc space you have available in real-time – directly from the menu bar!
CleanMyMac X includes a powerful menu bar icon that displays useful information such as available storage space.
How to fix Not enough space to install macOS Ventura?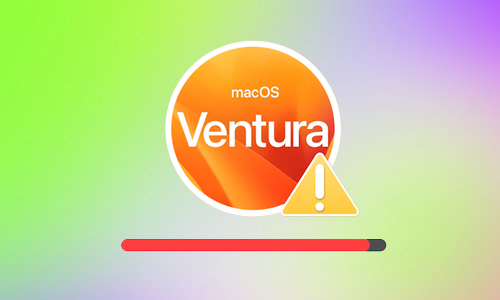 Here is the list of 6 methods to fix Not having enough space to install macOS Ventura:
Method #1. Clear junk files and cache
How much time do you have? CleanMyMac X takes about 15 seconds to scan your Mac for garbage and clean space and cache. No, seriously!
Simply download CleanMyMac X, activate it, and pick "System Junk" before running a scan. It will scan and clean your Mac in seconds (literally). If you need to go a step further, select "Maintenance" from the "Speed" menu and perform a deep clean on your DNS cache.
Tasks that might ordinarily take hours to complete manually are completed in minutes by the programme.
Method #2. Make sure there's no malware on your Mac
Though malware is uncommon on Macs, it is possible for your Mac to become infected. When it comes time to update to macOS Ventura, the last thing you want is malware you didn't know existed following you.
Checking for malware is straightforward using CleanMyMac X's Malware Removal module, which compares your entire system for malware to a regularly updated list of known malware. You may rest easy knowing that your Mac is being scanned for all known dangers.
CleanMyMac X detects malware in seconds. Simply pick the Malware Removal module, press the start button, and wait for the software to do its thing. CleanMyMac X will simply remove Malware if you have it.
Method #3. Create a backup to fix Not enough space to install macOS Ventura
There are various methods for making a backup of your Mac. Whatever technique you use, it's a good idea to keep a backup in case something goes wrong during the upgrade. In the worst-case situation, you may have to restart your Mac from a backup to avoid losing any important data.
Method #4. Allocate enough disk space for the update
It is not negotiable to free up disc space for the update. Your Mac requires sufficient capacity for the update, and you may have large or older files that prohibit your Mac from updating.
CleanMyMac X's Huge and Old Files module searches your Mac for large files and sorts them by age. You can either manually select which files to delete or have CleanMyMac X delete them all.
If you prefer, CleanMyMac X can dump your huge and/or old files to a folder, which you can then relocate to an external drive or cloud storage to give your Mac the space it requires to update to macOS Ventura.
Method #5. Update your macOS
To update your Mac, go to the top right corner of your screen and tap the Apple icon. Choose "About This Mac" and then "Software Update." If your Mac is eligible for the macOS Ventura update, a new window will appear to begin the process.
Method #6. Monitor your Mac's performance
It's critical to keep an eye on your Mac following a significant macOS update. Third-party apps can have an impact on speed, and you may have enabled some settings that alter how your Mac operates after an update. CPU and memory use are two important indications. If one spike or frequently clocks higher than typical, this is an indication that your Mac is underperforming.
The CleanMyMac X menu can assist in identifying memory and CPU use concerns. The menu bar drop-down menu provides a fast peek at performance, and tapping on modules brings up a sub-menu with more information.
You can also choose to terminate apps or services that are hogging memory or CPU under the sub-menu. CleanMyMac X is not only a quick method to see how your Mac is doing, but it is also the quickest and most straightforward approach to troubleshooting problems on your Mac.
macOS Ventura is an amazing Mac upgrade. It promises a slew of useful features, but don't be surprised if those features degrade your Mac's performance. This is especially true for older Macs with out-of-date processors.
CleanMyMac X is the ideal programme for extending the life of your Mac and is a must-have for your Ventura and subsequent updates.
I hope this tutorial has assisted you in installing and enjoying the macOS Ventura update. If you have any questions or comments, please leave them in the comments area.