How to use Crash Detection on iPhone 14? New features for the most recent iPhone versions are now available. While we'll be talking about all the new features included in the newest iPhone 14 series, let's focus on one in particular that really blew my mind: support for crash detection on iPhone.
What then is this attribute? Does it work with your device? The most crucial question is how to use Crash Detection on your iPhone. Let's do it now and find out!
What is Crash Detection on iPhone?
A more sophisticated variant of fall detection is crash detection. If the user doesn't answer within 20 seconds after your Apple Watch or iPhone senses a car crash, it will automatically launch the Emergency SOS option on your iPhone.
It will share your position and alert the emergency services and contacts when enabled. Apple spent years developing this function before releasing it. The group tested accidents on minivans, pickup trucks, sedans, SUVs, and other passenger cars in its crash test facilities, including rollovers and front, side, and rear crashes. Apple nevertheless cautions that Crash Detection cannot reliably identify all auto accidents despite testing on a variety of scenarios and cars.
The iPhone also makes use of its dual-core accelerometer, built-in gyroscope, and, if connected, data from the Apple Watch. Additionally, for those worried about privacy, the data will only be kept in encrypted form on your device and won't be sent elsewhere.
Crash Detection supported Apple devices
Apple devices that feature Crash Detection
Knowing how Apple's Crash Detection operates, let's look at which iPhones and Apple Watches are compatible with this capability. If your car supports CarPlay, the feature operates considerably more effectively.
iPhones:
iPhone 14
iPhone 14 Plus
iPhone 14 Pro
iPhone 14 Pro Max
How does Crash Detection Work?
The iPhone 14 series' sensors are capable of detecting collisions up to 256Gs, enabling it to initiate an Emergency SOS after a severe blow. The gadget will automatically activate Emergency SOS 10 seconds after the impact if the user doesn't answer this prompt. Even when your Apple Watch or iPhone is in low-power mode, the crash detection feature will still function.
How to use Crash Detection on iPhone 14?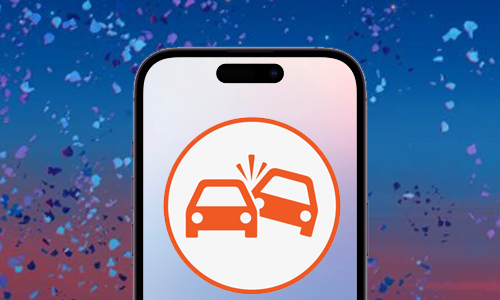 Here is the method to use Crash Detection on iPhone 14:
Launch Settings.
Select Emergency SOS.
Turn off or on.
Conclusion
It's nice to see Apple making a conscious effort to increase the safety of its consumers while automakers are doing their utmost to enhance the safety features of their automobiles. How effective do you believe the new crash detection feature will be, in your opinion? Comment below and let me know.