How to use Emergency SOS via satellite on iPhone 14? Hey, wanderlust, do you enjoy travelling the world? Is he afraid of being lost in the wilderness? The iPhone 14 series has a distinctive capability for you with the Emergency SOS via satellite. It significantly improves emergency services and raises the bar for every smartphone on the market.
How to use Emergency SOS via satellite on iPhone 14?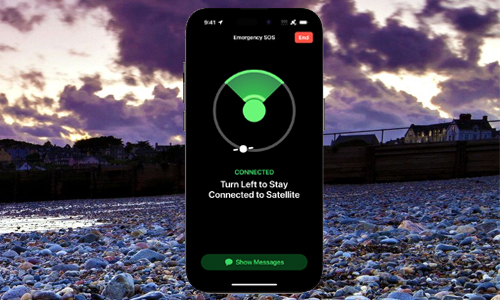 Here is the list of 5 methods to use Emergency SOS via satellite on iPhone 14:
Method #1. Via Satellite Works
Apple uses bespoke components infused in the basic components, hardware, and software of the iPhone 14 to route you to the satellite. This enables antennas integrated into the iPhone 14 series to link directly to a satellite.
Once connected, the iPhone 14 gadget can transmit and receive messages from emergency services even when it is not in the range of cellular or Wi-Fi coverage.
Method #2. Emergency SOS connects to the satellite and emergency services
Your iPhone establishes contact with a satellite.
After that, the satellite relays to the ground station.
The ground station then contacts the relay centre.
The relay centre communicates information to emergency services.
Method #3. Connect to a satellite on iPhone 14
Note: Move to elevated and open regions where there is less obstruction and you can plainly view the sky and the horizon. The link can be obstructed by hills, mountains, valleys, and large constructions. Even if your phone's screen is locked, the satellite connection can be maintained.
Take hold of the iPhone 14.
Turn on Emergency SOS. (To learn how, see this tutorial.)
To avoid a blocked signal, follow the onscreen directions and turn left or right.
When a satellite is connected to your iPhone, you will be directed to aim your iPhone in the direction of the satellite.
To receive a faster response, answer the questions on the screen.
Method #4. Text Emergency Services Via Satellite
Even if your typical cellular carrier network is unavailable, contact emergency services. You might be able to call via satellite.
If your call is not answered, send a text message to emergency services through satellite.
Select Satellite Emergency Text.
Launch the Messages app, text 911 or SOS, and then select Emergency Services.
Select Report an Emergency.
Respond to the onscreen prompts that best describe your scenario.
You can select to alert your emergency contacts as well as your location.
Follow the onscreen steps to connect to a satellite.
Following the onscreen instructions, continue to stay connected while sending your message to emergency personnel.
You will be able to communicate with emergency responders after you are linked to the emergency services. Once linked, you may be required to give vital information such as your Medical ID and emergency contact information.
Share your location using Find My:
You may also use Find Me to share your position when a cellular or Wi-Fi connection is unavailable. Hikers, campers, and others will feel more secure as a result of this.
Method #5. Emergency SOS via satellite and your privacy
As we all know, the iPhone has tight privacy regulations for all of its capabilities and apps, including satellite connectivity. When you use satellite connectivity to send messages, all of your messages are encrypted and decrypted by Apple before being routed to the appropriate emergency services dispatcher or emergency relay centre.
Keep in mind that the messages you transmit may be saved by the services that receive them as well as the relay provider in order to improve their services and comply with applicable regulations.