How to use the Apple Translate app on iPhone? The iPhone's Translate app is invaluable for linguaphile tourists like me. The app now has additional features that make it simpler to use with the iOS 16 release. So let's look at how to use the iPhone's Translate software.
How many Languages are supported by the Translate app on iPhone?
English (UK)
English (US)
French (France)
German (Germany)
Indonesian
Italian (Italy)
Japanese
Korean
Polish
Portuguese (Brazil)
Russian
Spanish (Spain)
Arabic
Chinese
(Mandarin–China mainland)
Chinese
(Mandarin–Taiwan)
Duch
Thai
Turkish
Vietnamese
How to use the Apple Translate app on iPhone?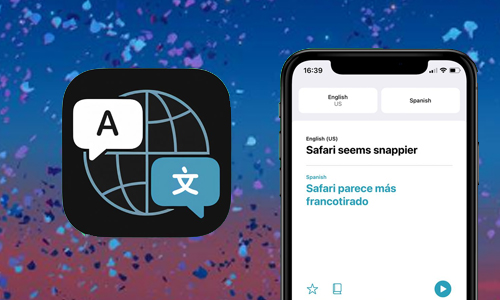 Here is the list of 7 methods to use the Apple Translate app on iPhone:
Method #1. Translate text or voice in the Translate app
Start the iPhone's Translate app.
Select two languages using the drop-down menu.
Enter text next. You can also speak by pressing the microphone button.

The full-screen, favourite, dictionary and play buttons are available for selection.
You may Enter text or tap the microphone button to convert more sentences.
Tap three dots and select Detect Language or Play Translations as per your needs.
Method #2. Use Conversation mode
Note: To move between Side by Side and Face to Face alignments, tap the alignment icon in the lower left corner.
Open the Conversation tab in the Translate app.
To speak, tap the microphone.
Method #3. Translate text with an iPhone camera view
You can utilise the camera feature of the Translate app to retrieve the information you need if you come across a hoarding or menu written in a language you don't understand. This is how:
In the Translate app, click the Camera tab.
Snap a picture of the text, and presto!
Method #4. Use iPhone camera
Start your iPhone's Camera app.
Tap the live text button while keeping your attention on the text you want to translate.
Tap -> arrow to slide and select Translate.
There is a switchable language translation. Other choices are Play Translation, Copy Translation, Add to Favorites, and Open in Translator. The Favorites tab allows you to check any text you've designated as a favourite at any time.
Method #5. Translate text in images
Activate the Photos app.
Select the picture that contains the translated text.
To pick the text you want to translate, tap and hold.
Select Translate.
Method #6. Use Siri
Say "Hey Siri" to activate Siri.
Declare, "Translate (anything you want to translate)" (language you want to translate).
Method #7. Turn on offline mode for the Translate app on iPhone
Run the Settings application.
To access Translate, scroll down.
Then select Downloaded Languages.
The languages you require offline should have a download option next to them.