How to use two-factor authentication on Mac? Situations such as data leaks, identity theft, account hacking, and so on are no longer unusual. As a result, user security measures such as two-factor authentication (2FA) are a sensible choice. Perhaps this is why Apple has gone on board and included two-factor authentication in macOS, iOS, and iPadOS.
The 2FA tool offers numerous advantages as part of Apple's built-in password manager, iCloud Keychain. But, before we get into how to set up two-factor authentication in macOS, let's learn a little more about it.
What is two-factor authentication?
Two-factor authentication is a verification code, similar to OTPs, that is used in conjunction with passwords to offer an extra layer of legitimacy to your login process. Consider this an additional set of locks that prevents malicious parties from accessing your accounts and the data contained within them.
How to use two-factor authentication on Mac?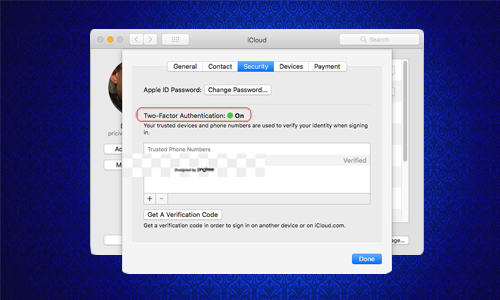 Here is the list of 2 methods to use two-factor authentication on Mac:
Method #1. Set up two-factor authentication
To demonstrate how to set up two-factor authentication in Mac, I'll use the Twitter site. While the basic principle remains the same, the procedure may differ slightly depending on the website, app, or location.
Launch Twitter site and navigate to the 2FA setting, which is normally found under Settings Security Two-factor Authentication.
Choose the Authentication app from the list of possibilities and follow the on-screen instructions until you receive the QR code.
Quick installation: Secondary click or control + click the QR code in the QR code box, then select Set Up Verification Code and follow the on-screen instructions. If this option is unavailable, proceed to the next step.
Manual configuration: Copy the code that appears after clicking Can't Scan a QR Code.
Now, from the top menu, select System Preferences Passwords and enter the device password.
Search for and choose the website's login, or create a new one.
Select Edit.
Next to Verification Code, click Enter Setup Key.
Copy the code and click OK.
A 30-second code generator will now be launched; click Save to return to the main window.
Return to the website and tap Next on the verification code window to copy the current code.
Enter the six-digit code here and press the Verify button.
Once verified, you'll see a backup code; write it down and keep it somewhere secure.
Method #2. Login using 2FA
When you use Safari, the iCloud Keychain app will auto-fill the verification code, just way it does with passwords, forms, and credit card information. If you use another browser, app, or service, you will have to manually obtain the code.
Select System Preferences Passwords after clicking the Apple logo.
Enter the password for your device.
Look for and choose the website/app/service login.

The 30-second code will be visible on the details screen.

Copy and paste the code into the desired location before attempting to log in.
How to delete 2FA on Mac?
Before we stop two-factor authentication on Mac, you should disable it from the website, app, or service's Settings -> Security -> Two-factor Authentication section to avoid getting locked out of your account.
Go to System Preferences -> Passwords and enter your device password.
Look for and select the login information.
Select Edit.
Choose Delete Verification Code.
To confirm the operation, click Delete Verification Code again in the pop-up.