How to fix Haptic Feedback not working on iPhone? The iPhone is among the greatest cell phones for a variety of reasons. In addition to excellent hardware, seamless software integration, and the Apple ecosystem, haptic feedback is a key component of the premium experience you receive.
Although using an iPhone will be a terrific experience, there may still be hardware and software problems. You're here because of one such problem, haptic feedback not working on your iPhone. So let's look at the solutions right now.
How to fix Haptic Feedback not working on iPhone?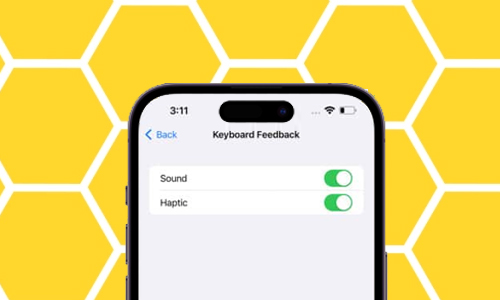 Here is the list of 8 methods to fix Haptix Feedback not working on iPhone:
Method #1. Make sure that Haptic Feedback is turned on.
Open the Settings app on your iPhone.
Select Sound & Haptics.
Switch on System Haptics.
To ensure that haptics is active in Ring and Silent modes, check the following boxes:

In Ring Mode, play Haptics.
In Silent Mode, play Haptics.
Method #2. Check to see if the vibration is enabled for touch response.
Tap Accessibility after opening Settings.
Under Physical and Motor, choose Touch.
Turn on the vibration.
Method #3. Switch to the default Apple Keyboard
You should switch to the default keyboard if haptic feedback isn't working on your iPhone when using a third-party keyboard. You can also check to see if you have the iPhone keyboard's haptic feedback feature active and see if the problem persists.
Access Settings.
Haptics and Tap Sounds.
Click on Keyboard Feedback.
Select Haptic from here.
Method #4. Restart iPhone to fix Haptic Feedback not working on iPhone
Don't we long for a fresh start in order to solve all of our issues? If you experience problems with your iPhone or any other device, a restart can often resolve these problems, albeit it will always be hope. On how to restart your iPhone, we have written thorough instructions. Check if the problem is still present after completing the steps.
Method #5. Choose a different vibration pattern
If your iPhone doesn't vibrate while receiving calls despite having haptics and vibration turned on, you should double-check to see if you or someone else has set the vibration pattern to none.
Tap Sound & Haptics after opening Settings.
Select Vibration, then Ringtone.
Choose any option here that you want, excluding None.
Method #6. Reset all settings to fix Haptic Feedback not working on iPhone
Go to Settings and select General.
Choose Reset or Transfer on the iPhone.
Here, select Reset.
Choose Reset All Settings.
To confirm, enter the Passcode.
To confirm once more, tap Reset All Settings.
You must confirm once more by tapping Reset All Settings.
Method #7. Update iOS
Apple has released iOS 16, however, it contains a lot of issues and missing functionality. You may experience problems with your iPhone's haptic feedback as a result of these problems. However, Apple will move quickly enough to deliver remedies when it discovers a problem.
In order to fix the bugs, Apple has already started to address them and distribute updates. So be sure to install the most recent iOS update on your iPhone. Additionally, it is preferable to switch to a stable iOS version if you are using any iOS beta versions.
In addition to these problems, make sure to update all of your apps to the most recent version because app developers are also attempting to make their apps compatible with the most recent iOS version.
Method #8. Reset your iPhone
Since none of the aforementioned features were successful for you, your iPhone's haptic feedback can only be fixed by resetting. You can reset your iPhone using our step-by-step instructions, and then check to see if the problems have been resolved.
Also Read: How to Fix iPhone 14 5G Not Working?