How to take a scrolling screenshot on iPhone? Everyone is familiar with (and sometimes overuses) the iPhone's screenshot function. You can rapidly share a snippet of information, a series of messages, or PDF files with others by pressing a few buttons or tapping on the back.
However, there are occasions when you want to capture more than just the screen, or you want to screenshot a full webpage or PDF document. While many screenshots are sufficient, a scrolling screenshot is far more convenient. Do you want to know how to snap a scrolling screenshot on your iPhone? This is how!
What are scrolling screenshots?
Scrolling screenshots are similar to conventional screenshots, with the exception that they capture more than one page on your iPhone. Unlike conventional screenshots, which require you to snap, scroll a little, and then snap again, a scrolling screenshot requires you to stitch together a continuous succession of screenshots to cover the full webpage.
This is especially useful when you want to capture anything that extends beyond what is visible on your screen. It's also ideal for capturing a conversation thread (on Twitter or Reddit) or capturing a full PDF document.
How to take a scrolling screenshot on iPhone?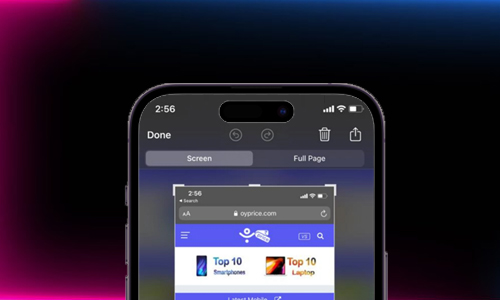 Here is the list of 4 methods to take a scrolling screenshot on iPhone:
Method #1.
Enter a webpage into the Safari app on your iPhone.
Take a standard screenshot by simultaneously pressing the Side Button and the Volume Up button.
On the lower left side of your screen, tap the Screenshot preview.
Tap Full Page at the top of the preview.
If you've taken numerous screenshots, tap Done Save PDF to Files or Save All to Files.
If you wish to send the file immediately, hit the Share button in the upper right corner and select the method. It should be noted that the file will be exported in PDF format.
Method #2. Use Assistive Touch
Navigate to the page or file that you wish to capture a screenshot of.
Tap the Assistive Touch button -> Screenshot.
Tap Full Page -> Save PDF to Files.
Method #3. Ask Siri to take a scrolling screenshot on iPhone
You might also enlist the assistance of your trusty iPhone sidekick to complete the task. Simply tell Siri, "Hey Siri, capture a screenshot." Then simply interact with the screenshot in the manner shown above.
Method #4. With third-party app
If you don't have these features yet but still want to transmit scrolling screenshots, you can use third-party programmes that can combine many screenshots into a single cohesive image. Some apps allow you to record them. Others let you select whether to stitch them vertically or horizontally.
This option is useful for many other apps that aren't supported by this native iOS feature, such as Messages and third-party messaging apps like Facebook Messenger and Snapchat.
Also Read: How to use the Messages app in iOS 16?