How to turn on Low Power mode on your Mac? If you possess an iPhone, I'm sure you've used Low Power mode to get the most out of your battery while not plugged in. With macOS Monterey, Apple added this functionality to Macs as well.
If you're regularly away from an electricity source and your Mac's battery is running low, utilise Low Power mode to reduce energy use and extend battery life. Furthermore, enabling Low Power mode on Mac is simple. Allow me to walk you through it!
What happens to Mac on Low Power mode?
Low Power mode for Macs, like iPhone's Low Power mode, optimises battery life by altering your device's energy utilisation. It reduces screen brightness, slows the system clock, and disables non-essential background tasks. A Mac in Low Power mode will run more silently due to the reduced CPU speed and energy usage.
While it provides more juice to keep your Mac running, it does not address any existing battery depletion concerns on your Mac. It's also a good idea to check your MacBook's Battery Health to see whether it needs to be replaced.
How to turn on Low Power mode on your Mac?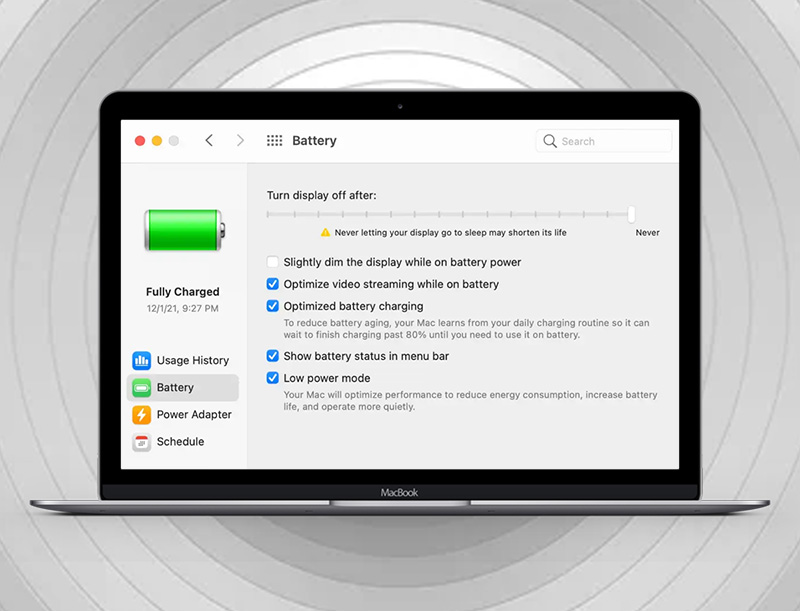 Here is the list of 2 methods to turn on Low Power mode on your Mac:
Method #1. Enable Mode
Navigate to System Preferences Battery.
Select Battery and turn on Low Power Mode in the right-hand pane.
The low Power mode is only available when you are using a battery. However, when your Macs is plugged into a power source, you may want to enable Low Power mode. This may aid in energy conservation, allowing it to charge faster.
Return to System Preferences → Battery → select the Power Adapter pane, and enable Low Power Mode.
Method #2. Quickly turn on Mode
Unlike on the iPhone, you cannot activate the feature with a single tap. You might use the Cooldown software to rapidly activate Low Power from your Mac's menu bar.
Otherwise, click the Battery symbol in the menu bar and select Battery Preferences to rapidly change your settings.