How to use two WhatsApp accounts on your iPhone? WhatsApp is one of the most popular messaging programmes on the planet. It is so popular that you use it to communicate with all of your friends, family, and even coworkers. As a result, you may want duplicate WhatsApp accounts for iPhone to keep your personal and work lives separate. Is that even possible? Yes, you can create several WhatsApp accounts, but there is a catch. But first, I'll show you how to use two WhatsApp accounts on your iPhone.
What are the Benefits of Having Two WhatsApp Accounts on an iPhone?
We all know how to create and set up a WhatsApp account with a single phone number. But what if you have a second eSIM card in your iPhone and want to use WhatsApp with it? Meta does not permit the use of two accounts on the same device at the same time. In addition, unlike Android, you cannot build a clone app or parallel space on the iPhone.
As a result, the only way to set up two WhatsApp accounts on an iPhone is to download WhatsApp Business. It's yet another free WhatsApp version tailored to businesses. However, anyone can use it because it performs the same functions as WhatsApp and has a few extra capabilities. As a result, you can keep your personal and business connections distinct.
Having many WhatsApp accounts enables for greater productivity. For example, while at work, you may establish and enable the Focus filter on your personal WhatsApp. You can also disable WhatsApp Business notifications on weekends. Let's look at how to use two WhatsApp accounts on an iPhone now.
How to use two WhatsApp accounts on your iPhone?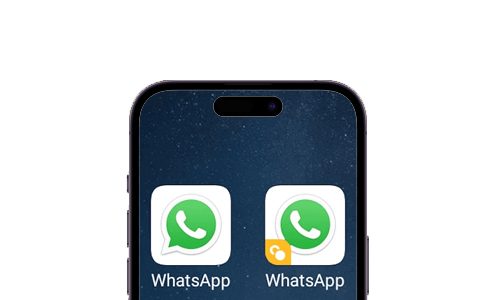 Here is the list of 2 methods to use two WhatsApp accounts on your iPhone:
Method #1. Use Messenger Duo for WhatsApp on iPhone
On your iPhone, install the Messenger Duo for WhatsApp app.
Open the programme when it has been successfully installed. It will display a QR code, much like WhatsApp Web.
Get your other device -> open WhatsApp -> go to Settings.
After that, select Link a Device and scan the code to connect your iPhone. Voila!
Method #2. Use WhatsApp Business to set up a second account
On your iPhone, install WhatsApp Business. Meanwhile, make sure your secondary SIM is set up as an eSIM on your iPhone or in another smartphone. It's critical since the OTP for logging into WhatsApp Business will be sent to that phone.
After the installation is complete, launch WhatsApp Business and select Agree & Continue.
Because you already have a WhatsApp account, you will be asked if you wish to use the same phone number for WhatsApp Business. To establish a second WhatsApp account, select Use a different phone number.
To validate your registration, enter the OTP you received on another number.
In the top-right corner, tap Done.
If you previously used WhatsApp on that phone number, select Restore Chat History from iCloud Backup and then hit Next. If not, choose Skip.
Then enter your name and upload a profile picture.
There is an option to set your Business category below that. Tap Done after selecting Not a business.
Follow the on-screen instructions, then select Next.
If a popup appears, tap Continue (the name does not adhere to the rules).
Finally, select Not Now.