How to Delete a Twitter Account Permanently? You may want to deactivate your account for a variety of reasons, such as no longer wanting to utilise the platform, starting a new account, or closing down a business account.
Depending on your reasons for cancelling your account, you may wish to complete the process as soon as feasible. Twitter, thankfully, allows you to remove your account in a few simple steps. While there is a 30-day deactivation period, your account will be (mostly) inaccessible throughout this time.
How to Delete a Twitter Account Permanently?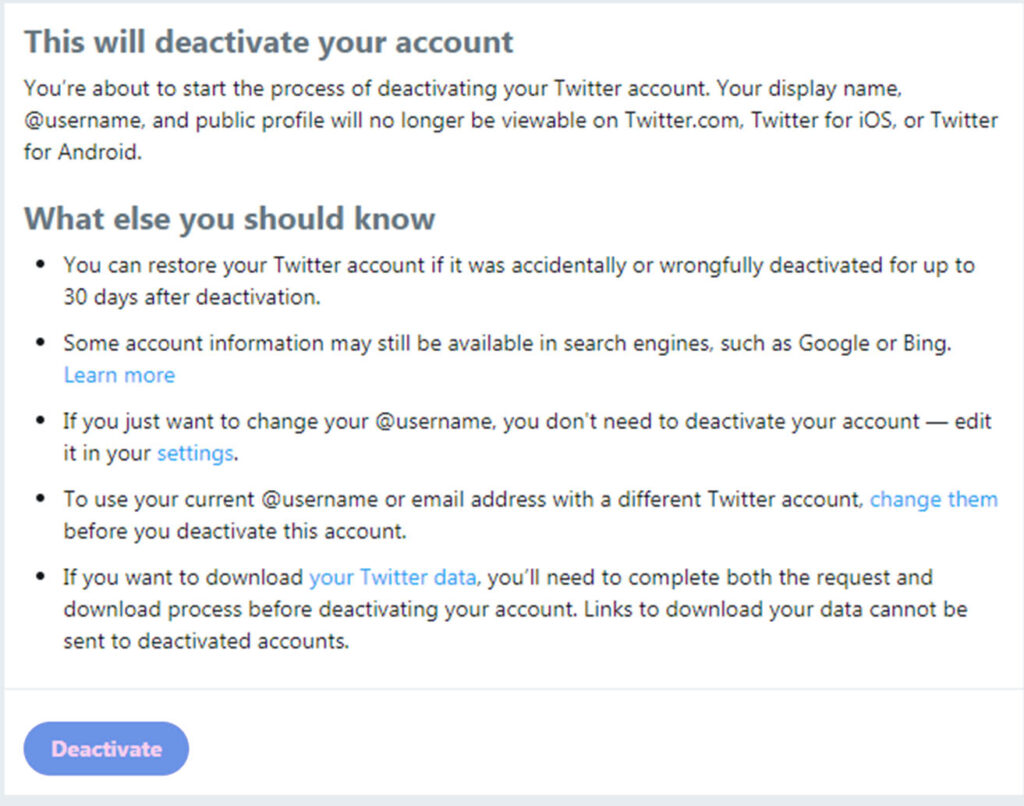 Here is the method to Delete a Twitter Account Permanently:
Method #1. Deactivate and Delete a Twitter Account
To delete a Twitter account, you must first deactivate it for 30 days. Twitter will then completely erase the account from its system. When you delete your account, all of your tweets will be permanently deleted from Twitter's servers. You have the option to hide tweets before deactivating the account.
Sign into Twitter to begin the process of deactivating your account, then follow these steps:
More can be found on the left side of your Twitter profile.
Select Settings and Privacy from the menu that displays.
Deactivate your account by going to Your Account (Account on the mobile app).
Twitter informs you that your tweets will be kept for 30 days. At that point, your account and all posts made on it will be permanently deleted from the Twitter servers. Select Deactivate if you want to proceed.
Confirm your password and click the Deactivate button.
For the next 30 days, do not log onto the account. At that point, Twitter will delete all of your tweets and your account will be permanently deactivated. Others will be able to use your username, but any tweets you previously shared will not be visible on any new account.
Method #2. Fast Security
You can make your account private to hide your tweets from inquisitive eyes without cancelling it entirely. You can still terminate the account after suppressing tweets at any time.
When you make your account private, only your followers can read your tweets. Even if they use Google or another third-party search engine, no one else will be able to access any of your posts. This is the quickest way to delete your tweets from public view.
Log in to Twitter using a web browser. More can be found in the menu.
Choose Settings and Privacy.
Choose Your Account.
Enter your password after selecting Account information.
Choose Protected Tweets.
To make your tweets private, check the box next to Protect my Tweets.
Go to Menu > Settings and Privacy > Privacy and Safety > Protect Your Tweets in the Twitter mobile app.
How to Reactivate Your Account?
If you check in within 30 days, everything will appear normal, as if you never left Twitter. You will then receive an email informing you that your account has been reactivated.
Remember that you will not be asked whether you want your account reactivated. It happens automatically when you log back in, so if you want your Twitter account permanently cancelled, you must stay away for at least 30 days.
Also Read: How to Block Websites on Your Android Phone or Tablet?